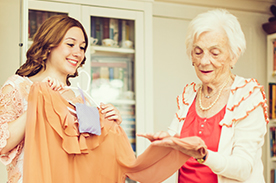 If you're the personal caregiver for a friend or family member, you know it can be a very lonely and confusing position to be in. There aren't many places or people you can turn to. Everyone has a different opinion on how to do this thing or what you should do for that issue. It can be tough, frustrating, aggravating, and stressful. But you're not completely alone! Besides taking the advice of your patient's doctor and sticking to medical guidelines, there are some helpful online resources for caregivers that can take the edge off your stress.
Family Caregiver Alliance. Originally founded in the late 70s, the Family Caregiver Alliance (FCA) gives support to those who find themselves caring for their loved ones at home. You can find information, resources, and support on the site.
AARP. The AARP isn't just for when you get older! With a section of their site dedicated to family caregiving, you can read stories from other caregivers, read articles and information on complex things like Power of Attorney, and connect online with other caregivers for support and questions.
Caregiver Support Services. A non-profit organization founded by a husband and wife team, supports family and professional caregivers through direct supportive services. Like the other sites, Caregiver Support Services offers resources and guides to help you care for your family, as well as a blog with useful information and tips for taking care of yourself.
It can feel like you're completely alone when you're the only person taking care of your sick family member day after day. Besides taking advantage of the expansive offerings available on the internet, you can build confidence in your caregiving skills with an online personal caregiver course!