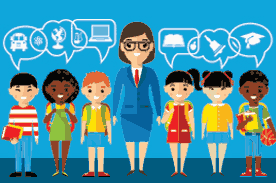 Penn Foster is pleased to offer FREE Early Childhood Webinars to our students and guests! For each live presentation attended, you will receive a certificate to share in your portfolio or to hang in your early childhood classroom/office. Please note that certificates will be given only to those of you that have logged in by clicking on the link sent in the confirmation email. Furthermore, to earn a certificate, you must be logged in for the entire session.
Here are February 2017's Early Childhood Education webinars. Follow the links to register for one or all of our free webinars. All times are Eastern Standard Time.
Tuesday, February 7th @ 9:00PM ET
Topic - How Learning and Performing Magic Can Make You Smarter and Provide Therapeutic Healing
Instructor - Julius Magic, Guest Speaker
Synopsis - Learning magic involves provides practice at following and interpreting printed instructions.
Learning magic involves reading, research and memory work. Practicing magic teaches that patience and perseverance bring rewards.
The performance of magic involves learning how to plan and multi-task. Performing magic provides practice at public speaking skills. Learning to perform magic provides shy people with a special ability that can help boost confidence. Performing magic involves developing creative writing skills used in creating "patter" scripts to go along with tricks. Creative writing skills are also required for scripting actions in magic routines and recording instructions on how to perform tricks.
Practicing small magic tricks improves dexterity in people with normal motor skills. For people with impaired motor skills, learning magic tricks provides the motivation to do therapeutic exercises that result in improved movement and gratification from achievement when a trick is successfully performed.
Inventing or developing a magic trick involves problem solving, learning how to think outside the box, and inspires the use of imagination and creativity. Building magic tricks requires use of drawing, design, crafting and other artistic skills.
Magic inspires us with wonder and causes us to consider what it might be possible to achieve. It teaches us that we can be fooled and that we don't always know or understand everything.
Magic encourages us to think.
Thursday, February 9th @ 9:00PM ET or Thursday, February 16th at 1:00PM ET
Select the date that works best for your schedule. If you cannot make it, register anyway and you will receive a recording of the session.
Topic - Informational Session on an Early Childhood Educators Club at Penn Foster
Instructor - Nancy Moretti, Penn Foster
Synopsis - Many students have shared an interest in creating an Early Childhood Educators Club and I am pleased to invite you to join me to learn more about this wonderful opportunity. Our future Early Childhood Club will support the professional development of the early childhood workforce, provide opportunities to share, network and raise awareness of the field of Early Childhood Education. Being a member or a leader of our club will enhance your resume! If you are interested in being a member, and officer, or just learning a little more about what the club can mean for you, please join the Department Chair of Early Childhood for an informational session.
Thursday, February 16th @ 9:00PM ET
Topic - Child Development Associate (CDA) Credential Webinar Series - Session Two: Creating the Professional Portfolio
Instructor - Nancy Moretti, Penn Foster
Synopsis - If you are in our CDA Prep Program or are completing one of the Penn Foster Career School programs and plan to seek your CDA Credential, these webinars are for you! We will meet on the first Thursday of every month and each session will cover specific steps in the CDA journey. Please join Nancy Moretti, Department Chair and CDA Professional Development Specialist for one or all of the sessions.
Tuesday, February 21st @ 3:00PM ET
Topic - Learning Care Group - Internship Program
Instructor - Laura Bevier, Guest Speaker
Synopsis - Please join us on Tuesday, February 21 from 3:00 – 4:00 PM Eastern to learn more about the Learning Care Group and our amazing partnership for students enrolled in the Penn Foster Early Childhood Education Associate's Degree or Child Care Professional Diploma program.
As the second largest for-profit provider of early education and child care in North America, The Learning Care Group serves children between six weeks and 13 years, under six unique brands.