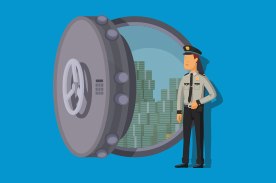 With over 1,000,000 security positions filled in the United States - and another 55,000 expected to be created over the next several years - it seems like everyone is hiring security guards to protect their assets. Businesses will always need protection from crime and vandalism, which means job opportunities for prospective safety officers should not be hard to find. Let's take a closer look at the types of business that employ security guards and the environment you can expect work in as an unarmed security officer.
Where do security guards work?
The security service industry stretches across a wide variety of businesses. Security guards are often needed in a variety of settings - including retail stores, office buildings, casinos, arenas, hotels, and universities. Most security guards will spend the majority of their time on their feet, either maintaining an assigned post or patrolling a property. Depending on place of employment and hours worked, some security guards will have a fair amount of contact with the public or other employees - particularly when working during the day or at the entrance to a gated facility or community.
Who employs security guards?
According to the latest Bureau of Labor Statistics (BLS) study, the industries that employed the most security guards in the past few years were:
Investigation, guard, and armored car services: 58%
Educational services; state, local, and private: 6%
Health care and social assistance: 6%
As you can see, more than half of security guards were employed by services that cater specifically to security work. "Educational services" usually applies to colleges, so think "campus security officer" for jobs within that industry. It's common for hospitals and nursing homes to hire security guards to monitor their properties, which is where safety officers in the third category are most likely employed.
Interested in becoming a security guard but not sure how to start? Take the first steps towards this exciting career field with online security guard training and learn the on-the-job skills relevant to work in a variety of settings!
Source
Security Guards and Gaming Surveillance Officers | Bureau of Labor Statistics