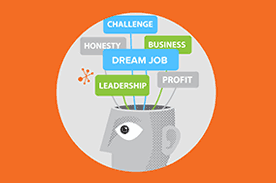 With many of us befriending our coworkers online, it's common-sense to keep your social and professional lives separate. But when most of our down time is spent on social media sites such as Facebook, Instagram, and Twitter, it can be hard to separate the two. We spend time creating an image of ourselves on social media that may not mesh with an employer's idea of a good hire. This could negatively impact a job search or your professional future. Here are a few questions to ask yourself to ensure you're putting your best self forward online and in the workplace!
Would you be embarrassed to have your boss see a certain photo? You may want to show off your fun, silly side to your friends and family, but a photo you're not sure of shouldn't be shared publicly. Your boss may know that you like to have fun with your friends on the weekend, but seeing evidence of it or hearing about it every Monday morning may be off-putting. If you think that something may be looked at negatively by a boss or supervisor, keep it private!
What qualities about yourself do you want to emphasize in your career? You want to highlight your strengths on a resume or in an interview; why wouldn't you do the same online? These days, employers and employment agencies often search for an employee's online footprint before scheduling an interview. One inappropriate comment or photo could mean the difference between a rejection and your dream job. If you're looking to emphasize your reliability, it's probably a good idea not to post about being consistently late. If you want to show you are even tempered and collected, you don't want a search to turn up an angry rant on your profile.
Could this post cause a heated argument? "You shouldn't talk about politics or religion at the dinner table" may be an old saying, but it still applies. You have the right to your opinion and the right to voice your opinion, but it should be done at the appropriate time and in the appropriate manner. This could cover the politics, religion, or a rant on why one coffee shop is far superior to another. Employers value people who can work in a team, and rants and argumentative posts can send the wrong message. You want to showcase the positive things you're passionate about, while avoiding negativity.
Who can see this post? Social media is widely used, from your teenage sister to your boss. As mentioned earlier, many employers will search your online presence for any red flags before considering you as a candidate. Make sure you take the time to set your privacy settings to be most effective. You want to protect from hackers, but you also want to keep your private life just that - private. If you need to have a public profile, make sure to avoid posting anything that may be considered "too much information" or something you wouldn't want a coworker to repeat at work.
Something as simple as changing your privacy settings could make a difference in your professional future. We're all connected online and a quick Google search shouldn't have the power to prevent you from being successful!