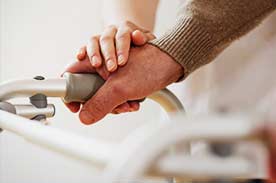 Over the past few weeks, we've taken a close look at the rapidly-growing home health aide career - from outlining how to become a home health aide to the most common places home health aides find work. However, if you're considering a career in home health care, you might be asking yourself what exactly you'll be doing on the job. Today, we'll take a closer look at the most common duties and responsibilities of home health aides.
What do home health aides do?
According the Bureau of Labor Statistics, these are some of the most common day-to-day responsibilities of home health aides:
Assisting clients in their daily personal tasks, such as bathing or dressing
Providing basic health-related services according to a client's needs, such as checking vital signs or administering prescribed medication at scheduled times
Light housekeeping, such as laundry, washing dishes, and vacuuming in a client's home
Helping to organize a client's schedule and plan appointments
Arranging transportation to doctors' offices or for other kinds of outings
Shopping for groceries and prepare meals to meet a client's dietary specifications
Helping to keep clients engaged in their social networks and communities
It's important to remember that the responsibilities of a home health aide can change based on a client's needs and exactly in what capacity the home health aide is employed. For example, home health aides working for a certified home health or hospice agency will also have the responsibilities of keeping records regarding a patient's progress and pass those records along to a case supervisor.
If you're interested in becoming a home health aide, consider affordable, online home health aide training to take the first steps into breaking into this growing field. Stay tuned to the Student Life Blog for more articles relevant to pursuing a career as a home health aide, covering topics like home health aide certification and more!