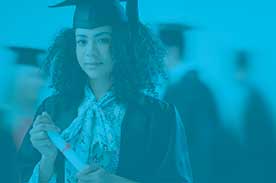 Now that 2017 has started, it's time to take a moment to consider how you can make this year better than the last. One way to start is by improving your academic credentials – and completing an undergrad certificate is a great way to start. With this certificate, you can take the first steps towards opening several career opportunities and bolstering your self-confidence. Plus, in 2017, earning your undergraduate certificate is simpler than ever. Here are a few reasons why:
Online Flexibility
Gone are the days of rigid class schedules that interfere with your work and personal life. Many undergrad certificate and degree programs are available in an online format, allowing you to view lectures and complete courses on your own time and at your own pace. For example, you can find a variety of nationally and regionally accredited online undergraduate certificate programs across fields such as accounting, business management, graphic design, and more. If you're not sure what career path is right for you, you can get started on furthering your education with a general studies undergraduate certificate.
Find Your Passion
Many students aren't sure what career they'd like to pursue. When reading career descriptions isn't enough, you can explore your options first-hand. Pick a variety of different courses to test the waters and find what speaks to you. Think about your long-term life goals. Do you like working directly with people or are you more of a behind-the-scenes type? Do you enjoy traveling? Perhaps you want to start your own business. You'll not only pinpoint possible career options; you might just find that one subject that truly inspires and motivates you to give it your all.
Ease Back into School
Going back to school doesn't have to be an ordeal. The flexibility of class options and the availability of online learning lets you ease back into a schedule at your own pace. Pick a few interesting classes and explore your options. Think of the initial semester as a trial-and-error period. If you feel comfortable, you can enroll in more courses or increase your workload the following semester.
Compare Online and Traditional Education
Both online and traditional education offer advantages and disadvantages. Traditional education offers more structure and face-to-face interaction with instructors and peers, while online education is unmatched in flexibility. If you have a busy schedule and can motivate yourself to stay on track, the online route may be your most beneficial option. You can also mix and match the two to get the best of both worlds. Speak with your academic advisor to learn about transferrable credits and help carve out the best academic path for yourself.
Don't let another year pass you by. Plan your 2017 education goals starting today. Visit Penn Foster to explore an array of accredited online classes and undergrad certificate programs. Take one step at a time and make this the year you take a step forward in your education, career, and life in general.