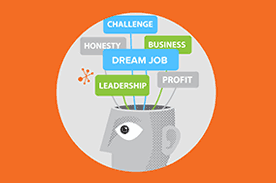 For many Penn Foster students, their Penn Foster experience might be their first experience with online learning in general. If you're new to learning online, don't fear - our expert Success Coaches are here to help keep you motivated and on track throughout your program! Here are a few tips from a Student Success Coach for first-time online students - and specifically, first-time Penn Foster students:
Remember that you're not alone. Just because Penn Foster is an online school, that doesn't mean that you are alone and have to work through this program by yourself. Penn Foster has plenty of experts that are here to help! Between Student CARE, expert faculty, and our Success Coaches, there is always someone here to lend a helping hand. If you have a question about your program - or the Penn Foster experience in general - don't hesitate to reach out! Also, don't forget that the Student Community is a great support system for Penn Foster students to chat with students, alumni, and faculty and discover helpful resources along the way.
Recognize your accomplishments. Many people may look at an online program and immediately think that it is an easy program. Often times, online courses are more challenging than their traditional counterparts! Take pride in the work you are doing, and be sure to celebrate your successes along the way. If you haven't already done so, check out the Congrats & Shout Outs page on the Community. You can share your own accomplishments or support your fellow classmates with a supportive message.
Stick to a schedule. If you have a day off during the week, dedicate that day to your studies. I know the last thing most of us want to do on our day off is school work, but it's important to keep your goals in mind and remember why you enrolled in school in the first place! We suggest starting slow - sticking to 1-2 hours a night - and adjusting your pace as you get more comfortable with your routine.
As long as you keep these few tips in mind while progressing through your program, you should have no problems adjusting to life as a Penn Foster student! For more student lifestyle tips from Penn Foster's Success Coaches, head to the Student Success Center on the Penn Foster Student Community.