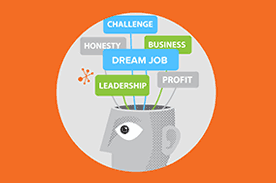 This article was originally posted in the Student Success Center on the Penn Foster Student Community. Head there to access webinars, tutorials, and other resources to help you throughout your Penn Foster student journey!
Unemployment is one of the most stressful obstacles an adult can face - particularly, unexpected unemployment. The loss of a steady job can throw an entire life into a state of uncertainty and chaos. Likewise, being stuck with a job you don't enjoy can be draining and leave little energy for your studies, hobbies, or home life. A good, steady, enjoyable job can seem like the most elusive prey, but with the right resources, you can take the edge off the stress of your hunt for "the most dangerous game."
First, if you have an idea of what you'd like to do or you have academic qualifications in a particular industry, you can look for websites that are specific to that field. If you know you want to work for a particular company, just go to their website (or even just google) and type "jobs" or "careers" in the search bar. You might have to weed through results to find the position that's right for you, but it will at least give you an idea of what's available.
If you're just canvassing for any job in your area, sites like Indeed or Monster are helpful. If you're struggling to find postings or secure the ones you've applied for, you can always find and visit your local career center for some professional help getting placed. They also may have things like mock interviews to help you feel confident for the real deal.
If you have a resume, keep it updated. If you don't have a resume, write one! There are millions of templates to walk you through the format on Microsoft Word and the internet - and if you're a Penn Foster student, you can use Career Cruising's resume builder to make the process even easier. The most important things to include on a resume are your education (print out a proof of enrollment letter from your student portal to show that you're pursuing a Penn Foster education as well), your past job experience, and your special skills. Oh, and the name: make sure it's yours.
Always have a list of at least three character references to provide to prospective employers, and make sure they know that you're using them as a reference so they're not caught off guard with a phone call. Never list a relative as a reference, and try to avoid listing friends if possible, unless you've worked with them at a previous job. Have at least the phone number and mailing address of each person, and try to include an email if they're willing to let you list it. Previous managers and teachers are great references to include. Just make sure you had a good working relationship with that person—and if it's been a few years, check that they remember you.
Finally, always include a cover letter. Cover letters are simple, just a quick "Hello, I'd like to be considered for the position of [blank] that you recently listed on/in/through [wherever/however you found it], and I believe I am qualified for the following reasons: [list]." Follow that up with something saying why you would like to work in that place or do that job, and always end with "Please feel free to contact me as I would love to discuss my qualifications further."...and your name, obviously.
Need some more job-hunting advice? Check out these resources to help you along the way: