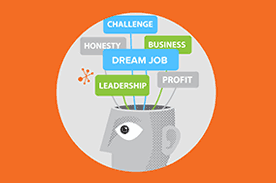 At Penn Foster, we think it's important to provide students with real skills they can take into the workforce. This year, we wanted to take it a step further! Fueled by Penn Foster and Strada Education Network, career exploration organization Roadtrip Nation is offering the Skills Forward Roadtrip! This opportunity will send three people on a four-week adventure across the U.S. to interview people who have found fulfilling career pathways in skill-focused jobs and trades. They'll focus on jobs that need some training or certification, but don't require a four-year degree.
(Fun fact: Did you know skilled jobs that don't require a four-year degree make up almost half the economy?)
Filmed for the Roadtrip Nation public television series, this experience will introduce selected participants — and TV audiences — to all that skill-focused jobs have to offer. We're excited to support this adventure and encourage our amazing students to apply. Applications are open until August 14, 2017 here!