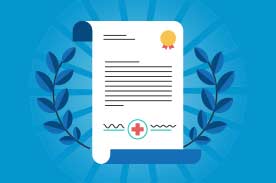 Originally published on AccreditedSchoolsOnline.org
Increased access to healthcare, combined with an aging population, are fueling the growth of healthcare jobs and the administrative support services needed. The U.S. Bureau of Labor Statistics (BLS) projects a 15 percent growth between 2014 and 2024 for medical records and health information technicians, a career that can be entered fairly quickly – often in less than a year – through earning a certificate, diploma or associate degree. Graduates may then take positions in a variety of settings, from doctor's offices to private billing firms. The following sampling of careers shows the diversity of jobs available to medical billing and coding professionals.
Title: Billing Customer Service Specialist
Work Environment: Call Center
Answers phones to respond to general customer inquiries, invoice questions, and customer complaints. Also prepares memos and correspondence, and contacts customers regarding outstanding balances.
Title: Team Lead: Hospital Collections
Work Environment: Hospital or healthcare system
Oversees billing and re-billing procedures and troubleshoots problems. Ensures that compliance, quality, call model accuracy, client specifics and collections practices workflows are adhered to.
Title: Coding Auditor
Work Environment: Remote/At home
Codes, reviews and audits medical records to ensure that diagnostic codes and modifiers align with coding guidelines. Ensures work is accurate and has been submitted for payment.
Title: Coding Coordinator: Physician Practice
Work Environment: Physician's Office
Oversees coding department operations, such as managing electronic medical records (EMRs), performing coding edits, and analyzing data. Advises and educates employees in various coding departments, assesses performance and compliance, and implements various tactics to improve the coding and billing process.
Working Remotely as a Biller or Coder
Need to stay home with the kids? Prefer to work in the middle of the night? Want to cut the commute to save time and money? Working remotely is one of the main draws for people who become medical billers and coders. Since work is done via computer, many employers hire independent contractors, or allow employees to choose when and where they work. The only requirements are high-speed Internet access, a secure connection to comply with HIPAA privacy requirements—and enough self-motivation to get the job done.
Interested in pursuing one of the above potential career paths? Consider online medical billing and coding classes to help you get started. You can learn on your own time, at your own pace, and receive help whenever you need it!