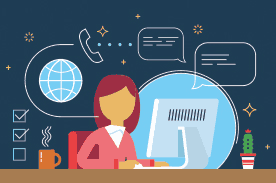 Penn Foster's recently-launched Virtual Assistant program was designed to help you take the first steps towards starting your own business and becoming your own boss in this emerging field. As part of our Virtual Assistant program, we have included content from Lisa Morosky - author of the popular eBook, The Virtual Bootstrap VA: The Go-Getter's Guide to Becoming a Virtual Assistant, Getting and Keeping Clients, and More!
Recently, Lisa Morosky conducted interviews with several professional virtual assistants already working in the field - including previously published interviews with Carmen Abascal and Leslie Auman. Today, we bring you Lisa's conversation with Rachel Shewmaker. With a vision and a dream, Rachel Shewmaker founded A Helping Hand Virtual Assistant Services in 2015. She works with solopreneurs and small business owners and is committed to their success. Previously, Rachel worked for 15 years in the private sector in retail, finance, and project management.
What type of people do you serve as a virtual assistant? Why did you choose this niche?
My primary client base is made up of entrepreneurial moms of both very young and grown children.
These women are very passionate about their businesses for a few different reasons. They want their businesses to be successful so they can provide for their family. They want to show their children what it means to build and work for something you believe in, how to take pride in your work, and how to serve others with integrity. They are 100% invested in their business. If it fails, then they fail and they strive to prevent that from happening.
I chose this type of client because I am this type of client. My business is not a hobby or something I do on the side. My business is my livelihood and because I specifically chose to be a virtual assistant, I need to be 100% invested or it just won't work. I share the entrepreneurial passion with every client I serve.
In your experience, what skills come in handy when working with entrepreneurial moms?
You have to be able to figure out what the client is not saying. A lot of business owners, especially women, have a hundred different things going on in their minds. They don't have the time to drill down and explain their needs. A virtual assistant has to be able to help them find what they need to ask for. I'm not saying they are unfamiliar with their business, but they have to be thinking about growth more than they are thinking about certain processes. You have to be patient and proactive and confident in your ability to offer suggestions and best practices.
What are your best tips for successfully working with entrepreneurial moms?
Patience and persistence are key. My clients are busy and they have goals. Sometimes the plans and dreams are broad so you have to be able to narrow the focus into small actionable steps. Project plans and task plans are huge and so incredibly helpful. The client expectations are important and you want to meet those expectations, but within reason. Never sacrifice your own family time or down time and make sure the client understands that. Protect you, but be an asset to your client.
What does a "day in the life of Rachel" look like?
I have three kids - 4 years old, 8 years old, and 16 years old. My day starts at 4:00am. I work until 6:00am, then I get ready and get the kids up and ready. I'm back home at 8:45am and work until I leave to get them from school at 2:50pm. I sometimes add an hour or two of work in the evening after baseball, homework, dinner, baths, and bed, just so I don't fall too far behind. There's lots of coffee involved!
Lastly, what are some tips you have for staying organized and managing your time as someone who works from home?
I love Teamwork and use in personally and professionally.
All my client tasks are organized into Teamwork. The long list of to-dos seems overwhelming, so I start the day with flagging three of the most important/time sensitive tasks and only focus on completing those. When the first three tasks are done, I flag three more and continue like this. Of course, there are sudden phone calls or last-minute emailed tasks, but you just work them in. I love being able to stay focused on a few tasks at a time rather than scrolling through a list of dozens and picking which I feel like doing.
Stay focused, track your time, and pay attention to any areas where you may be wasting time. I save most housework until the kids are home from school because they leave me alone to do housework, but they don't leave me alone to work on my computer. Also, kids can help with housework. I don't have to do it all myself.