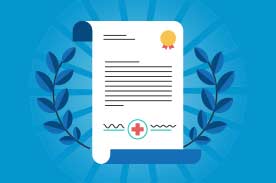 Originally published on AccreditedSchoolsOnline.org
Medical coders keep patient records accurate for both healthcare providers and insurance companies. To do so, they rely on the World Health Organization's International Classification for Diseases (ICD), a system that classifies and codes all diagnoses, symptoms and procedures. The previous industry standard – the ICD-9 code sets – has recently been updated with a more detailed version, the ICD-10. Here are seven things you should know about it.
The ICD-10 is a detailed diagnostic coding system, with 69,000 codes determined by the World Health Organization (WHO). It is used in more than 100 countries worldwide.
Greater detail in coding is expected to improve care management, analytics, reporting and tracking public health issues, and identifying and assessing risk factors.
Almost every clinical and administrative process in a healthcare setting will depend on ICD-10 codes.
Although the ICD-10 has been in place since the early 1990s, the final compliance date in the United States did not happen until October, 2015.
All professionals certified by the American Association of Professional Coders (AAPC) must pass the ICD-10-CM Proficiency Assessment, an online, open-book exam available for purchase from the AAPC. Another certifying agency for medical coders, the American Health Information Management Association (AHIMA), does not require its members to pass an assessment exam. However, those with AHIMA certification must prove knowledge of the ICD-10 through continuing education.
The ICD-10 Proficiency Assessment measures understanding of ICD-10-CM format and structure, groupings and categories of codes, guidelines, and coding concepts. It does not cover the ICD-PCS.
Professionals who receive training in the ICD-10 can earn continuing education units (CEUs) for AAPC and AHIMA recertification.