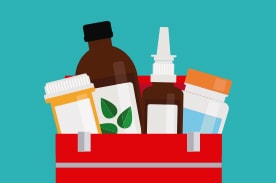 Originally published on AccreditedSchoolsOnline.org
Pharmacy technician schools can provide techs with the basic knowledge and technical savvy they need to perform their jobs effectively, but employers consider more than just a candidate's training. There are many other qualities that make an excellent technician. Pharmacy techs must be friendly, cooperative and have a strong attention to detail, for instance, and administrative tasks are common. They must also be able to stand for several hours a day and keep their cool under pressure. Here are some of the professional and personal skills and qualities that serve pharmacy technicians well.
Job-specific knowledge.
The duties pharmacy technicians perform can vary by state and employer, but most rely on a similar set of professional skills. These including knowing how to:
Read, verify and manage patient prescription requests
Properly dose and fill prescription orders
Use and maintain laboratory equipment and tools
Store prescription and over-the-counter medications properly
Track inventories
Maintain a safe, sanitary environment
Find, review and relay drug safety information, including potential interactions
Keep records in accordance with patients' privacy rights
Communicate with pharmacists, insurance companies, patients and healthcare providers
Bill and collect payment for prescription orders
General workplace skills.
Pharmacy technicians often need other workplace skills that are not industry-specific. Among them:
Strong customer and personal service skills
Clerical and administrative know-how
Using computers, software, printers and related equipment
Organizing, planning and prioritizing work
Working well independently and in a team
Communicating with colleagues, supervisors and other work groups
Personal aptitudes.
Like most professionals, pharmacy technicians can benefit from having a number of seemingly more innate skills and qualities. These include:
Service orientation
Excellent time management
Multitasking
Active listening
Strong reading comprehension
Excellent critical thinking and problem solving
Time management and organization
Social perceptiveness
Personal qualities.
According to O*Net OnLine, it is often helpful for pharmacy technicians to have the following qualities and characteristics:
Near vision
Clarity of speech
A warm disposition
Self-control
Dependability
Personal initiative
Problem sensitivity
High tolerance for stress
Adaptability
A cooperative nature
More key resume-builders.
Formal training can give some pharmacy technicians an edge over lesser trained career competition, but there are other ways candidates can set themselves apart. Among them:
Certification
Graduation from an accredited program
Membership in educational and professional organizations
Practical experience via labs and externships
Continuing education courses, especially to maintain certification
Participating in extracurricular and community service activities
Personal and professional recommendations from former employers, instructors and other qualified contributors
Work history and experience
Future pharmacy technicians who want to get a better sense for the field's demands and requirements can look for pharmacy internships or entry-level jobs as cashiers in retail clinics. Interested in taking the first steps toward a career as a pharmacy technician? Consider online pharmacy technician courses to help you break into this fast-paced, exciting field!