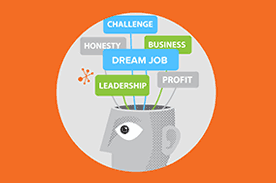 "Millennial" is a term that's been popular for the last few years, used to categorize a vague generation of people. Even the definition of "millennial" is vague: a person reaching young adulthood in the early 21st century. Is this you? It's hard to tell; the definition almost leaves it up to each of us individually to determine if the "millennial" label fits us. I go back and forth myself, but must admit that I'd probably fall into the "old millennial" bucket, which includes those of us in our later twenties or early thirties. If you consider yourself a millennial, young or old, there are some skills career experts say we need to brush up on or refine to be more marketable when searching for a job. Check out the list below and see if you need to brush up on your skills before applying to your dream job!
Focus. As millennials, we're pretty well-versed in most soft skills. At least, I think we are, though many articles will say differently. But, despite your soft skills expertise, you may be missing an important one: focus. There's no special, new way to define focus as it relates to your career; there's no hidden meaning behind this skill. Employers are, quite literally, looking for young people who can pay attention and remain focused on a task or goal. Focus can be as simple as taking the time to make sure your email and communications are formatted correctly and devoid of easy-to-find-and-fix typos. This is especially important in your cover letter and resume when you're reaching out to potential employers. Not only does a typo or messy document cause hiring managers to lose focus, it makes you look as if you couldn't care less about a position you applied for.
Emotional Intelligence. Emotional intelligence is being aware of and managing your emotions, as well as that of others, says Psychology Today. It's not just being "touchy-feely," but rather having a true understanding of where another person is coming from, as well as the ability to address the concerns and emotions of them. Most millennials, myself included, often lack emotional intelligence, which can potentially hurt us in our careers. It's difficult to develop a skill that is learned through face-to-face communication and interaction when we prefer to communicate almost solely through email, text message, or social media post.

Emotional intelligence as a skill is a more developed part of customer service. In college, I worked part-time jobs at a children's museum and a coffee shop. Dealing with all kinds of different people---kind, quiet, angry, loud---each shift forced me to learn to recognize what they were feeling and how to deal with it. I'm not suggesting everyone go out and get a part-time job to learn this skill if they've never worked in customer service, but it's how I learned. If you'd like to brush up on your emotional intelligence, take some time to speak with people---even just your friends and family---in person.
Adaptability. No matter what field you're interested in working in, you'll find yourself dealing with change on a regular basis. New technology and applications change all of the time, or become defunct. Being able to "roll with the punches" is an invaluable skill. This could mean not stressing out when your boss announces you'll be using a new phone system, but calmly learning what you need to do to use it. More developed, it's the ability to plan ahead and see possibilities; you're not just stuck in a straight line of "if this, then that" but are able to pinpoint different paths going forward.
Nothing is ever truly black and white; you may work for or are applying to companies who value your hard skills---tech knowledge, data and programming skills, etc.---more than anything else. But overall, employers are looking for reliable, intelligent people they don't have to micromanage. Possessing strong soft skills will be an advantage at any company in the long term, especially if you're hoping to fill a leadership role at some point. If you're not confident about your soft skills, or want to brush up on some things you may have forgotten over the years, check out our online Career Readiness Bootcamp!