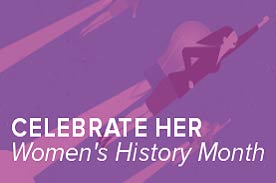 March is Women's History Month! Designated as a time to celebrate the vital role of women throughout history, Women's History Month is a celebration of the achievements, leadership, courage, strength, and love of those who fought and struggled for women's equality.
Throughout the month of March, Penn Foster will be hosting a series of events for employees to help empower women, become involved in women's leadership, and celebrate the inspirational women in our lives. Throughout this month, we are encouraging all of our students to take the time to do the same, and reflect on the women in our lives that have inspired confidence, leadership, and success in all of us.
Head to the Penn Foster Student Community and join our discussion as we honor the standout women that inspire us each day. Tell us about your favorite female role models, share a story about a woman that has inspired you, or give a shoutout to someone that has made a difference in your life! Plus, stay tuned to the Student Life Blog as we showcase some of the women that have helped shape Penn Foster throughout history.