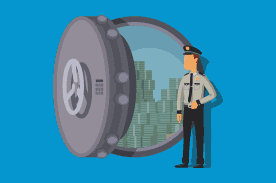 Safety officers and security guards fill necessary a worthwhile and necessary function across a wide variety of industries, providing protective services to retail stores, office buildings, casinos, stadiums, hotels, and more. With over 55,000 positions to expected to be created over the next few years, now might be the time to consider becoming a safety officer. If this is a career choice you've been considering, take a look at these qualities found in successful security guards and other safety professionals to see if you have what it takes to join this exciting field.
Must-Have Qualities of a Safety Officer
According to the Bureau of Labor Statistics, these are just a few of the qualities found in successful safety officers and security guards:
Decision-making skills. Guards and officers must be able to quickly determine the best course of action when a dangerous situation arises. If you need work on your decision-making and problem-solving skills, consider soft skills training to help you develop these important workplace skills.
Patience. Security guards and safety officers may need to spend long periods standing and observing their environment without distractions. Being a security guard isn't always the most exciting job, but having the patience to wait through the quiet moments is a must-have trait for people serious about pursuing this career.
Observation skills. Guards and officers must be alert and aware of their surroundings, and be able to quickly recognize anything out of the ordinary. Security guards must also stay focused and avoid distractions as much as possible, as missing the slightest detail when reporting the details of criminal activity can hurt the safety officer's credibility.
Fitness. Guards must be strong enough to apprehend offenders and to handle emergency situations. Exercising regularly and maintaining a healthy weight can also lead to increased focus and mental alertness - both of which are extremely important for security officers to possess.
Whether you already have the traits listed above or feel confident in your ability to develop those qualities, becoming a safety officer is an exciting career path that you can get started on today. Take the first steps with online security guard training today, and stay tuned to the Student Life Blog as we discuss more topics related to the safety services field!