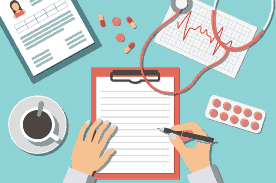 If you're interested in a career in the pharmaceutical industry but do not want to commit to the extensive education required to become a pharmacist, don't give up just yet. With a higher-than-average job growth projected over the next few years, now might just be the time to consider a career as a pharmacy technician. The duties of pharmacists and pharmacy technicians are different, as are the levels of responsibility that come with each profession. Today, we'll break down exactly what it is that pharmacy technicians do, and how you can take the first steps towards entering the exciting world of pharmaceuticals on your own.
What do pharmacy technicians do?
At the highest level, the role of a pharmacy technician is to assist pharmacists dispense prescriptions to customers or health professionals. Pharmacy technicians most commonly work under the supervision of pharmacists in an actual pharmacy - although some pharmacy technicians can also work in hospitals or other healthcare facilities.
According to the Bureau of Labor Statistics, here are just a few of the day-to-day responsibilities of pharmacy technicians:
Collect information needed to fill a prescription from customers or health professionals
Measure amounts of medication for prescriptions
Package and label prescriptions
Organize inventory and alert pharmacists to any shortages of medications or supplies
Accept payment for prescriptions and process insurance claims
Enter customer or patient information, including any prescriptions taken, into a computer system
Answer phone calls from customers
Arrange for customers to speak with pharmacists if customers have questions about medications or health matters
How do you become a pharmacy technician?
Although becoming a pharmacy technician doesn't require as much training as becoming a pharmacist, pursuing pharmacy technician certification is a great way to get ahead of the competition and show employers that you are serious about your career choice. While becoming certified - typically through the Pharmacy Technician Certification Exam (PTCE) or ExCPT certification exam - is not mandatory in all work environments, some states do require pharmacy technicians to pass a certification exam.
To help you prepare for pharmacy technician certification, consider enrolling in an online pharmacy technician training program. Some online programs are designed so you can learn on-the-job-skills relevant to working in a pharmacy before taking your certification exam. With Penn Foster Career School, your coursework even includes a pharmacy technician certification review, so you can be confident in your knowledge before taking your pharmacy technician certification exam.
Want to learn more about becoming a pharmacy technician? Check out these articles to help you plan for your future career: