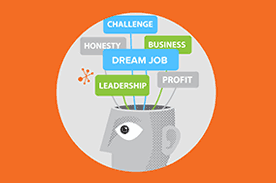 Whether you started working in high school or after college, your first job is almost never your last. No one expects it to be your lifelong career. Your first few jobs will be like trying on clothes when you go shopping at a new store - you're not sure what your size is or the style you like, so you need to try on a few pairs of pants before you pick the right ones. There's nothing wrong with changing jobs because it wasn't the right place for you. But what do you do when you find a job that is the perfect fit that you do want to make your career? Here are some things to consider to make it happen:
Consider furthering your education or training. No matter the field you choose, turning your job into a career may require you to pursue more education, whether that is in school or through training programs. Even if your current position doesn't require you to get a new diploma or certificate, courses that are relevant to what you want to do can help build your resume. Besides demonstrating the dedication you have to your career, taking courses or participating in different training classes also shows that you're willing to put in the work for what you want - which is something that can go a long way with hiring managers.
Find a mentor. If the company you're currently working for is somewhere you'd like to stay, you shouldn't have an issue finding a mentor, as you've most likely already made friends and have established yourself there. A coworker or supervisor who has been at the company for a while would be able to give you advice on your career decisions. A mentor is also a great sounding board when you're not sure what career path you'd be best fit for.
Do your best. This sounds like common sense, but it's easy to forget your current position when you're planning for the future. You were hired for your position for a reason, and while you want to prove you're able to take on more responsibility, you don't want to lose sight of your day-to-day job. Simply doing your best and putting effort and enthusiasm into your current tasks will show your coworkers and supervisors you are trustworthy and responsible.
When you've found the right career, it can be tough to be patient and work toward your goal. These tips are intended to help you build a foundation that will enable you to pursue your goals and demonstrate that you're an asset to your company!