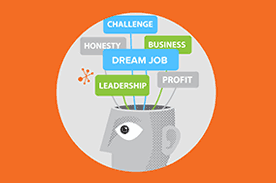 Having career-specific training and education is often necessary to snag a position in the field you're interested in. However, that's not all you need to get the job these days. More and more, employers and recruiters are placing emphasis on "soft skills": those personal attributes and qualities that help you interact effectively and harmoniously with others. Most schools and training programs will teach you the hard skills you need for your chosen career, whether it be computer programing or baking a perfect souffle. Soft skills are often learned through experience. But what if this is your first time looking for a job? Why do soft skills matter when you have the necessary technical training? And, if you don't have soft skills, where can you learn them?
"Hard skills vary based on the job," Guy Berger says in a LinkedIn Official Blog post from 2016, "but soft skills are required for every job." He uses the example of a chef and a server. The chef needs to know how to properly dice vegetables, but a server in the same restaurant doesn't. However, both positions demand the ability to communicate well with other employees at the restaurant and being able to work together as a team. Effective interpersonal communication minimizes confusion and misunderstandings in any workplace and can make everyone's job there easier. Knowing how to cook well or memorize an order correctly may get you an interview, but your interpersonal skills are often what lands you the job.
So, if soft skills mean the difference between being hired or not, where can you pick them up? If being a "people person" doesn't come naturally to you, the next best thing can be a training course. Career Readiness Bootcamp - the new soft skills course at Penn Foster - not only walks you through common-sense skills like being punctual for your shift, but teaches you the most effective ways to communicate with your coworkers and supervisors. Through interactive study units, the lessons take you through everyday scenarios and teaches you how to strengthen your common-sense skills. You'll learn how to work in a team and discover the best way to communicate with your team, whether you're agreeing or disagreeing with them.
And, even if you are a natural-born people-person with expert soft skills, having a certificate that shows you've completed a training program with those skills can only help enhance your resume!