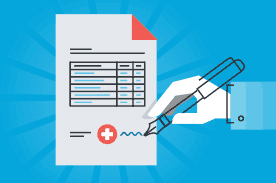 Originally published on AccreditedSchoolsOnline.org
Medical billing and coding careers serve to connect the clinical and business aspects of healthcare. Due in large part to factors such as aging baby boomers and federal legislation that has increased access to healthcare, the U.S. healthcare sector continues to grow. As it does, hospitals, doctors' offices and other healthcare facilities are turning to medical billers and coders to handle specialized administrative duties. Although the job responsibilities of each can overlap – especially in smaller settings – each plays a specific role in the workplace. Here's how the process typically works:
Step 1: Patients see a physician or undergo treatment. This can include anything from a simple annual check up to a complex surgery.
Step 2: Medical coders review diagnoses, test results, procedures, and other information, and assign them the corresponding medical codes.
Step 3: Medical billers enter coded information onto bills in the proper order and form, and then submit them to insurance companies or individual clients for payment.
Step 4: Insurance companies review the categorization of procedures or treatments, and reimburse providers according to the terms of the coverage plan.
Interested in learning more about the field of medical coding and billing? Here are a few resources to help you get started: