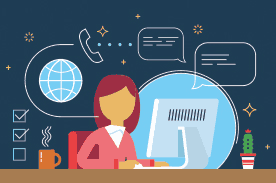 Penn Foster's recently-launched Virtual Assistant program was designed to help you take the first steps towards starting your own business and becoming your own boss in this emerging field. As part of our Virtual Assistant program, we have included content from Lisa Morosky - author of the popular eBook, The Virtual Bootstrap VA: The Go-Getter's Guide to Becoming a Virtual Assistant, Getting and Keeping Clients, and More!
Recently, Lisa Morosky conducted interviews with several professional virtual assistants already working in the field - including last week's interview with Carmen Abascal. Today, we bring you Lisa's interview with Leslie Auman! Leslie Auman is a self-employed virtual assistant who works exclusively with teacher bloggers who sell their classroom creations online, also known as teacher-sellers. In addition to working with her clients, Leslie provides business coaching and consulting services to other individuals who would like to become virtual assistants serving her niche. Part of her business purpose includes reaching a wider audience of "solopreneurs" and providing them with content that inspires, supports, and motivates them in their business endeavors.
What type of people do you serve as a virtual assistant? Why did you choose this niche?
I serve teacher-sellers, many of whom also have blogs, where they blog about a variety of educational topics. The term "teacher-seller" refers most specifically to educators who sell their creations, such as novel studies and unit plans, on an online marketplace called Teachers Pay Teachers. While there are other online marketplaces like this out there, I exclusively work with teacher-sellers on the Teachers Pay Teachers platform (but a couple of my clients do have accounts with some of those other marketplaces). Despite the name, teacher-sellers often include not just teachers but also administrators, speech-language pathologists, guidance counselors, clip artists, stock photographers, and font creators!
I chose this niche because I'm a former teacher myself. I used to teach middle school English language arts and social studies, specifically sixth and seventh grades. When I first launched my virtual assistant business, I actually hoped to work with bloggers from the Paleo/real food/holistic lifestyle niche, as that is a big personal interest of mine. However, that never really took off, and instead my business bloomed in the Teachers Pay Teachers niche. I now work from home full-time serving 11 clients from this niche, and I've had a waitlist since mid-August of 2016!
In your experience, what skills come in handy when working with teacher-sellers?
The number one thing that I see teacher-sellers requesting help with is scheduling pins for Pinterest, so knowing how to use apps that schedule pins - specifically Tailwind, the most popular one in this niche - is highly valuable. Likewise, I also see a fair amount of requests for help with scheduling for Facebook and other social media platforms.
Another skill that's useful with this niche is the ability to edit blog posts and products; this is my favorite service to offer, personally!
The last service that comes in handy in this niche is the ability to help clients do a variety of tasks in their Teachers Pay Teachers accounts, including things like responding to buyer feedback on their behalf and updating their product descriptions, which requires some minor HTML knowledge. Not as many clients request this, because at this time, Teachers Pay Teachers doesn't have the option to add users with certain permissions (like a website does), which means you can see the clients' financial data when logged in. However, I've worked in about half of my clients' Teachers Pay Teachers accounts, either for one-time projects or for ongoing ones.
What are your best tips for successfully working with teacher-sellers?
Without a doubt, the number one tip that I can give for working in this niche is to be an honest, reliable, and trustworthy virtual assistant. Unfortunately, there are many stories abound of teacher-sellers being burned by unethical virtual assistants and other types of independent contractors who took their money and then never did the work or who did something completely different from what the client asked. For example, one of my clients hired a virtual assistant prior to me who told her that she could totally revamp and update all 160+ of my client's product descriptions in three hours, and then she didn't actually get started on the work. That amount of work is not even remotely possible in such a small amount of time! Fortunately, my client was able to get her money back, but unfortunately, this type of situation is not an unusual occurrence in this niche. Therefore, integrity and honesty are of the utmost importance.
I also recommend having patience with this niche. While more and more teacher-sellers are leaving their full-time jobs to run their online stores full-time, many of them are still working in schools full-time and doing Teachers Pay Teachers on the side. Additionally, many of them have families. I share this because clients understandably have a lot going on and can sometimes take a long time to respond to emails and need gentle reminders to get back to you or to pay their invoices. In my experience, clients seem to feel most comfortable working with virtual assistants who are former teachers or who have some kind of background in education and therefore have a good understanding of their schedules and the demands placed upon them as educators. That being said, if you don't have a background or other experience in education (well, even if you do, really!), then it's extremely helpful and important to maintain open lines of communication and always get clear on what a client wants you to do. Video calls and screen sharing are super useful for this, and I often do a "trial run" of a new service for a client and ask her to check it out and give me feedback before I proceed.
What does a "day in the life of Leslie" look like?
I do client work Monday-Friday, and I wake up at about 6:00 AM every day with my significant other, which is when he gets up to get ready for work. I then take care of our pets and do my morning routine, after which I'm getting into my home office to get started on work. Lately, I've started spending an hour first thing in the mornings working on my own business, because things I need to do for my own business (like writing blog posts) were getting pushed to the back burner in favor of doing client work. After that, I take a break to eat breakfast, which is usually around 7:30 AM, and I always go to the kitchen to eat (to get away from my desk) and read a book while I eat.
Then, it's back to my office to get started on client work, which I do for the rest of the day. I usually take a break around 10:00-10:30 AM to either take our dog on a walk or go to the gym, depending on the day. I return to client work after that, and I'll take a break away from my office again for lunch usually sometime between 12:30-2:00 PM before returning to work for another couple of hours until I finish up for the day. I normally finish client work around 4:00-4:30 PM, due to the breaks I take throughout the day.
Mondays-Thursdays I usually have around 7 1/2 hours of client work on my agenda, and then on Fridays I aim to have around 6 1/2 hours or less so that I have some time to do administrative tasks to prepare for the upcoming week.
Lastly, what are some tips you have for staying organized and managing your time as someone who works from home?
I use a variety of tools to help me stay organized. As far as keeping track of my to-do list for client work goes, I use Asana. It has a bit of a learning curve: It took me so long to learn how to use it that I almost gave up on it, and I consider myself to be pretty tech-savvy and a fast learner! But, now that I've got it all figured out, it's extremely helpful in keeping track of all my clients' tasks and what needs to get done on which days.
I also use Google Drive, since I have my domain-based email address powered with G Suite. I have an Admin folder set up for myself with a variety of folders and documents or spreadsheets inside them, and then I have folders for each client who has documents shared with me via Drive. Speaking of G Suite, I use labels for each client for my inbox, and then those labels function as folders, as well, when I have emails I need to hang onto for a while.
Dropbox is another organization tool for me. I have not only my own business and personal documents uploaded to various folders, but I also have folders for many of my clients, mostly for photographs and graphics to which we both need access.
The last "organization" tool I use is FreshBooks. Although it's an accounting tool, I include it here because I do all of my expense tracking with it, including uploading invoices and receipts, so that's a big part of keeping my business finances organized.