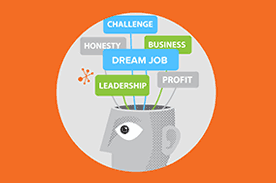 One of the most intimidating things about a new job, especially for introverts, is the idea of making friends in the workplace. Many people will tell you that making friends isn't important, getting the job done is. This is true to some degree; your daily tasks do take precedence over office gossip or recaps of the latest episode of your favorite show. But making friends on the job not only makes for a more positive workplace, it will help you cultivate a strong professional network.
Your professional network is made up of former coworkers and supervisors, people you attended school with, professors or instructors, and the people you've done volunteer work with. Building your network at a new job, and becoming work friends with those new people in your network can be tough. There's a fine line between seeking to expand your network and make friends and what many people would view as "brown-nosing." Here are some things to keep in mind when you're networking as the new kid!
Be genuine. This is the kind of advice you get for everything. How do you make friends? Be genuine! How do you fall in love? Be genuine! Be yourself! Be true to you! The reason this is so often the answer for advice seekers is because it's… well… it's absolutely true. Being genuine and sincere is what will differentiate you from people who are considered to be "sucking up." When you are genuine, what you say has a different weight to it. It's heavier, in a good way. When you're genuinely yourself, making friends with the coworkers in the cubicle next to you and having a good relationship with your supervisor will come naturally. Over time, more people will seek you out and so your network will keep expanding.
Volunteer. Not for overtime hours, necessarily. But volunteer your time or efforts for a cause your company embraces. These days, many corporations and small businesses like to get involved in volunteer opportunities. Not only does it help their community, it gets their name out there. You should think of personal volunteer opportunities the same way. By taking part in something being organized by your workplace, you're helping your coworkers, company, and community and getting your name out there. When opportunities come up, people will remember that you helped before and are more likely to ask you to help again. Besides attracting positive attention, you'll make like minded friends when you volunteer. Getting through a long work week without a work BFF can be tough!
Don't worry, don't hurry. Depending on the size of your new company, it may take you a while to know everyone there by name. Don't stress! You have enough on your plate getting used to your new routine and new friendships. If your workplace is very large, you really won't ever know every single person there. But let your dedication to your work speak for you. If you work hard and take advantage of opportunities as they present themselves, things will fall into place.
Getting settled in a new workplace is tough, even if you have a tremendous amount of experience in your field. We often get caught up in the need to be successful right away, make friends right away, whether we're just out of college in our first job or on our fifth job. Besides networking opportunities, making friends with your coworkers will give you a sounding board when you're stressed, help with ideas when you're stuck, and give you someone to lean on when you feel like you're not successful. Take your time getting to know everyone and eventually, you'll be the one who knows everyone showing the new kid around.