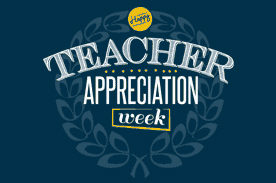 "It's the teacher that makes the difference, not the classroom."
-Michael Morpurgo
This week is Teacher Appreciation Week - a time to honor those teachers that change the lives of millions of students every day! At Penn Foster, we know that the role of our teachers is slightly less traditional than in the regular classroom. If there's ever been a Penn Foster teacher that has gone the extra mile for you - whether it's answering a late email or taking a few extra steps to help you understand a lesson - now is your chance to thank them!
Head here and leave a note to show your appreciation for an exceptional Penn Foster instructor. If you have friends that are current Penn Foster students or who have already graduated, encourage them to leave a note as well - your message is sure to brighten an instructor's day!