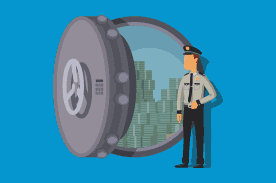 If you've been considering a career in safety services, you may have come across various online security guard training programs. While getting a head start on your security guard training is a great idea, be warned that not all security guard training programs are the same! If you're serious about pursuing online security guard training, make sure that the program you choose offers the following courses in their security guard curriculum:
Security Guard Conduct
This course will teach students to identify the appropriate aspects of a professional image and proper conduct necessary when entering the workforce. Students will discover the importance of professional communication and how it will assist in performing the duties of a security guard.
Civil and Criminal Laws and Liabilities
This course provides an overview of the components, structure, principles, and processes within the American criminal and civil justice systems. Students will learn the elements of a crime, the difference between civil and criminal law, the stages of criminal and civil procedures, and legal liability issues that can affect a security business or individual security officer.
Arrest and Detention
This course outlines the laws and procedures applicable to private security as compared to public law enforcement. Students will learn conditions and techniques for properly and legally responding to crimes in progress, securing crime locations, making arrests, and conducting search and seizure activities.
Protecting Buildings, Property, and Assets
This course explores tools and strategies to monitor and secure buildings and grounds. Topics include patrolling operations, methods and devices to prevent unauthorized entry, and effective use of surveillance, lighting, and detection technologies to enhance security.
Emergencies, Threats, and Evacuations
This course provides information on what to consider and how to best proceed when responding to medical emergencies, a variety of threats, and conducting an evacuation.
Investigations
This course provides an overview of investigations and evidence as they relate to private security work. The student will learn how to write an investigative report, conduct an interview, and collect and preserve evidence, as well as how to provide court testimony.