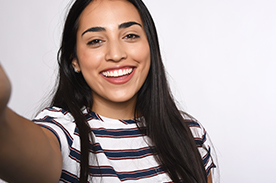 We're passionate about giving back to our community at Penn Foster. In 2017, we're proud to say that we've contributed 857 volunteer hours with over 127 volunteers to local and global communities in need! With that in mind, we welcome and encourage you to celebrate #GivingTuesday with us.
#GivingTuesday is a global movement encouraging everyone to give back through donations, volunteer work, random acts of kindness, and more. We'll be sharing our volunteer work on social media through photos and stories, but we want to hear about what you do to give back!
Show us your #Unselfie
Don't be shy—share your helpfulness with the whole world! Add the hashtags #Unselfie and #PFProud to your social posts and share photos and stories of how you contribute to your community. Whether it's helping at a local animal shelter, keeping your community litter-free, or giving time to your local soup kitchen, the good you do matters! AND it's contagious! Seeing how helpful all of you are will inspire others to do a little good in their own community.
Learning to Give
Join Penn Foster students and staff in a special Learning to Give webinar. Hosted by Dr. Jim Hurrell, the one-hour presentation will help us all discover ways to volunteer our time—from being someone's study buddy to donating time in your community! We'll also announce the winner of the Debra Spencer Student Volunteer Award.
The Debra Spencer Student Volunteer Award
The first-ever Debra Spencer Student Volunteer Award will honor a special student who went above and beyond to help others. This award is is in honor of a Penn Foster alumnus who devoted so many hours of her life to giving back to others. Debra Spencer used her knowledge to fix computers free of charge for those who couldn't afford a repair service, including reaching out to the elderly. She volunteered even more of her time at Penn Foster graduations and meetups to help other students and share her inspiring story. In her memory, we want to recognize other students who work to make the world a better place. Interested in applying? Head here for more information!
Whether you're donating a few hours of your time in your community or reaching out to another student you know is struggling, you kindness is inspiring. Let's work together to foster as much good-will and service as possible this giving season and beyond!