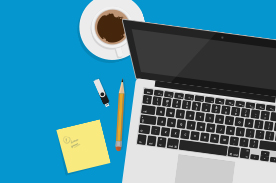 National Distance Learning Week begins November 6, 2017! As one of oldest distance education schools, Penn Foster is thrilled to celebrate this special occasion. Though we've talked about our extensive history in correspondence and distance education, we haven't been the only school to embrace this evolution in learning. Before Thomas Foster officially started the International Correspondence School in 1890, the beginnings of correspondence and distance education can be traced to a Swedish newspaper advertisement in 1833 offering readers the opportunity to study composition through the mail.
Since then, correspondence and distance education changed the academic environment, making way for more practical coursework with more practical scheduling. This would benefit those who worked long hours and couldn't afford to take the time to attend residential colleges and universities. With the acceptance of correspondence education, those who previously were unable to pursue higher education were given a chance to pursue their goals.
Today, with widespread access to and use of the internet and computers, students are able to take their education with them wherever they go.
Distance education can change lives. We hear stories from our amazing, inspirational students every day that show us the difference it can make. If you're a graduate, we'd love to hear about your experience with distance education and Penn Foster.
Throughout the week, we'll be celebrating and cheering on all of you, so don't hesitate to share your journey on Facebook!