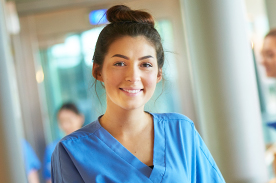 Previously Published on AccreditedSchoolsOnline.com
Patricia Angeles began her career as a medical assistant; she is now an office manager and case work specialist. She is state certified in medical assisting, both clinical and administrative; she also holds certificates in phlebotomy, anatomy and physiology, medical abbreviation and linguistics, laboratory and minor procedures and sterile tech processing. Here, she discusses medical assistant training.
Many states don't require formal training. Why should a medical assistant pursue training anyway?
Having worked in the field for over nine years, I have come to realize that my formal training gave me a solid base to build my career upon. I have great respect for people who jump in without training, as it is a very detail oriented profession and is usually fast paced. Not only do you have to cater to your patients but to your doctors as well. You have to have the ability to think quick, retain memory and use common medical knowledge to problem solve. Though all of these can be obtained through experience, many offices choose formally trained medical assistants because they have gone through internship and know how a typical medical office setting operates. When I was fresh out of internship and newly hired, my formal training looked great on my resume and helped me stand out from the crowd.
What was the most difficult part of training for you, and how did you overcome it?
The most difficult part for me was externship. I had gone to one of the most laborious and "raw" clinics. Meaning, I trained on site for three days, then after three days, I was expected to draw medication, know insurance processes and juggle assisting three doctors at a time. This seemed overwhelming at first, but because I went through a great school, had amazing teachers and was hands on in class, I was able to handle my externship well. When I got stuck, I had my notes and my references as well as my teacher (who was a doctor) to assist me. I also asked questions, no matter how many they were, so I was able to be on my own without my on site supervisor.
Any advice you might offer those who are curious about becoming a medical assistant?
Always keep learning. Being in the medical field is a learning experience, no matter how long or what role you play. If are curious and voracious for knowledge, you will go far. Always stand out from the crowd. I'm praised for being pro-active and adaptable to any situation. This allowed me to stand out because I actively look for things to do and ways to improve processes and workflows. It goes through the grapevine pretty quickly and soon enough it'll reach the right people. But your negative critiques go through it faster. Always be professional and be proud of what you do, as it will show in your work.