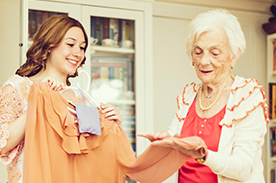 With skyrocketing healthcare costs, more people than ever end up having to provide personal care for a sick or disabled loved one. It can be difficult, emotionally and physically. The frustration and fear of not knowing if you're doing the right thing for your patient is painful. If you're not sure you can provide home care for your family or friend, see if you have a few of these necessary skills before hiring out a home health service!
You're detail oriented.
A good caregiver needs to adhere to specific rules and follow instructions closely, even if you're just providing care for a family member. In order to prevent mistakes, you need to be able to carefully follow the guidelines given by healthcare professionals. This can include properly taking care of wounds, identifying changes in their condition, and closely following directions on dispensing medication.
You have integrity.
It's sad to think that there are many who take advantage of ill and disabled family and friends. But it happens. If you're dependable, trustworthy, and take your duties seriously, you have integrity. Besides often taking charge of finances and daily chores, you may also need to help with more personal matters like bathing or helping your patient use the restroom.
You have people skills.
Yes, the person you are caring for may be close family, but if you don't have developed interpersonal skills, it may make caring for them just a bit more difficult. Often, people don't want to mention when they're in pain or weak. You need to be able to pay close attention to emotions and facial expressions in order to know if someone is really in pain, but won't say. You also need to be compassionate, even if your patient is frustrating or angering you.
You have physical stamina.
Home care of a sick adult is physically demanding. At first, it may not seem so, but when you need to run up and down stairs several times a day, lift and turn your patient, or even carry their weight to walk a short distance, it can be exhausting. You don't need to be the most fit individual, but being able to take care of several physical tasks will help you effectively take care of your patient.
If you have the natural skills needed to be a caregiver to sick family and friends, but are still unsure about home care, taking a personal caregiver course can boost your confidence. Besides making your patient more comfortable, you can learn the proper care procedures and language to give the person you're caring for the best experience possible.
Source
Bureau of Labor Statistics