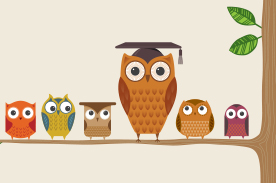 Previously Published on AffordableCollegesOnline.org
Since there are many degree levels, there is also a variety of career opportunities to pursue with an early childhood education degree, covering everything from child care to leadership.
Preschool Teacher
Preschool teachers educate and care for children before they enter kindergarten. Teachers are responsible for preparing students for the next steps in their education by familiarizing them with basic reading, writing and science concepts. Additional topics covered in preschool include colors, shapes, numbers and letters. Mainly, however, preschool instructors help students develop social skills through group and one-on-one activities. If any emotional or developmental issues seem to be present, it is the responsibility of the teacher to notify the student's parents.
Child Care Worker
Child care workers are responsible for providing general care for children when their parents are not available. At the very minimum, they attend to basic needs such as feeding and bathing. Some child care centers may also provide activities to help prepare younger children for kindergarten or assist older children with homework assignments. Even teachers who are not working in a formal school setting may be asked to organize a curriculum that provides opportunities for children to learn about the world around them.
Preschool and Child Care Center Director
Directors oversee all aspects of a center by managing facility staff members, monitoring daily activities, developing the curriculum and preparing budgets. Over half of those working as directors are employed by child day care services. Although directors work in schools and child care centers, the nature of the role means much of their time is spent in an office, but this doesn't mean they don't spend time in the classroom! The success of their center relies on maintaining standards related to staff performance, curriculum execution, student development and relationships with parents. A career as a director should appeal to educators attracted to leadership and administrative duties.
Kindergarten and Elementary School Teacher
Kindergarten and elementary school teachers work in public and private schools. Their schedules vary depending on the school district's academic calendar. Teachers are responsible for creating and implementing lessons covering subjects such as reading, science, math and social studies. They also help students gain real-world skills so they can effectively communicate and cooperate with their peers. Outside of the classroom, teachers spend time grading assignments and exams and meeting with parents to update them on their child's academic progress.
Special Education Teacher
Special education teachers are specially trained to work with students who have a range of learning, mental, emotional and physical disabilities. For students with mild to moderate disabilities, general education lessons are adapted to meet their abilities. These teachers also teach basic literacy skills and communication techniques to students with more severe disabilities. Instead of developing one curriculum for each subject matter, special education teachers create individualized education programs (IEPs) tailored to each student. These IEPs are assessed and updated throughout the school year based on the student's progress and goals.