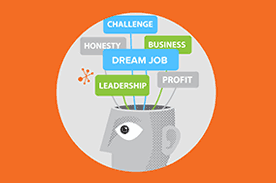 No matter how old we get, we'll almost always get nervous when something really matters to us. That's why starting a new job at a company you're excited about, doing work you're passionate about...It's nerve wracking that first day. I remember when I started my first "real" job. At 22, I assumed this would be my career, the company I worked for until retirement. I imagined the whole story from tense first days to familiarity to company birthday parties and friends. I didn't sleep the night before my first day. I tried. I really did. But I tossed and turned and kept checking my alarm in case I set it for the wrong time or accidentally turned it off. After eight hours of this, the alarm did go off and I anxiously changed outfits four times. My stomach was a graveyard for all the butterflies that had been fluttering there for hours. I got on the bus, missed my stop, and was still an hour early. The first month there went basically the same: be ridiculously early, stress about things I say or wear or do, have trouble making new work friends. And then, one day I wasn't nervous anymore. However, I do wish I got over those nerves significantly earlier. Here's what I learned about tackling new job jitters so you can walk confidently into your new work home from day one!
Nerves can be good. That seems like a lie, right? That sick feeling in your stomach that makes you shake and stutter cannot be positive. But sometimes, in the right circumstances, being a little nervous can be a good thing! It means you are obviously happy and excited about the career you're starting. That's amazing! Most of us aren't lucky enough to find a job we love, doing something we're passionate about. It can take years of dedication and dull work to find your dream position. But you've found something you're excited about and that is a feeling almost like falling in love for the first time. Some light nerves can help you get through the first few days of paperwork, training, and introductions with enthusiasm. They also can help you make a great impression in those first few days---being early isn't a bad thing, and neither is dressing appropriately and looking your best. The key is to keep those jitters as under control as possible. Be nervous enough to stand up straight but not nervous enough that you can't speak.
Sleep. Okay, remember that I mentioned the night before I started the first day of a job I thought would be the beginning of a long, exciting career? I didn't sleep. I couldn't sleep. I really should have slept. Though the first day of a new job can feel like the first day of a new school year where you're not expected to do much more than make sure you memorize the correct spelling of your teacher's name and collect syllabi, you still need to be awake. You need to fill out important paperwork that ensures you get paid, you need to seem interested in new faces and new tasks. If you're a sleep deprived zombie, everything is fuzzy and it's hard to do much more than cry when you find out the coffee pot is empty in the cafeteria and it will take at least five minutes to brew more. Even if you're a natural night owl, try to get to bed a few hours earlier than normal. You know you'll be tossing and turning for at least an hour. Give yourself plenty of time to wake up. Being well-rested makes an incredible difference when you're nervous. When you're well-rested, it's easier to think rationally and not worry that on your very first day of your dream job you're going to accidentally insult your boss.
Eat. I'm not someone who can get excited about eating in the morning. Usually, during the work week at least, I wake up a whole fifteen minutes before I have to leave the house. No time to wake up or digest a healthy, balanced breakfast. And I'm not saying you need to start your day with a wholesome, homemade breakfast. Let's be real, unless you're a morning person you're not going to get up an hour or two early to make pancakes and bacon when you can grab a quick something or other at a drive thru on the way. However you do it, whether you throw some fruit in your bag or stop for a donut, having something to eat in the morning can help you prepare for the day ahead. It also gives you a bit of time to settle those nerves and you don't have to add "embarrassingly rumbly stomach" to the list of things that you're worried about on day one. The added benefit of having a bite to eat in the morning is that, if you didn't actually sleep like you should've, it can give you a boost of energy and hopefully shake you awake!
Be yourself. The old, tired advice everyone gives. But it works. You may be nervous on your first day, but you'll be even more so if you try to pretend you're someone you're not. Keeping your fake persona in mind will make things worse for you because you'll have to constantly think about what Fake Business You would do and not what you do. If you like to talk loudly and curse, don't let that side of yourself out at work. It's unprofessional. But being true to the basic aspects of your personality will make things a lot easier. If you don't like coffee, don't say you do so you can chat with a supervisor. Don't lie and don't try to be whatever you envision "successful you" as. We often think success and popularity comes from fine clothes and "cultured" tastes and … who knows what else. But it really is as simple as having a voice, being kind, being dedicated. Being the professional version of yourself will make you more comfortable and more likely to settle into your new company quickly. Be true to you.
Don't think if you follow this advice you will cure your new job jitters. You won't, especially not if you really care about the new career you're starting. I obviously didn't stay at that company that 22-year-old me thought I'd end my career at. I'm here, writing this for you, and I couldn't be happier. I was just as nervous when I sat at my new desk in this new department, even though I started working at the company almost four years ago. The nerves do not go away but embrace them, be your best self, and work hard and those jitters will fade naturally.