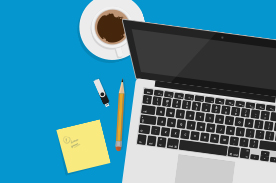 History is important at Penn Foster. With over 127 years of it, it's something that we are extremely enthusiastic about sharing. And today, October 16th, is a special anniversary for us. It's not the anniversary of the date we first "opened the doors" as a school. Today is a celebration of our very first officially enrolled student!
The International Correspondence Schools (ICS), then known as The Colliery Engineer School of Mines, was founded by Thomas J. Foster in 1890. Foster was editor and publisher of the Mining Herald, a newspaper in Shenandoah, Pennsylvania. He was also an advocate for miner safety programs, which spurred Foster to take the steps that would, years later, lead to a revolution in training and education for workers.
In response to the Mine Safety Act of 1885, which was a Pennsylvania law that required mining foremen, inspectors, and supervisors to pass an exam testing their knowledge of mine safety, Foster began turning the Mining Herald into an educational resource. Most miners at the time had a rather rudimentary education and the overwhelmingly complicated and technical language used in the exam was detrimental to their success. To assist these men, Foster would print example questions and information to help prepare miners to pass the exams. His column "increased the demand for knowledge in the Pennsylvania mining districts," and the column soon became the start of what would be the "largest single educational institution in America's history."
From a newspaper column to a two room "school" in the Coal Exchange Building in Scranton to the multistory Finch Building, ICS continued to grow past all expectations. The school moved from offering only a small handful of mining and engineering related courses to offering over two hundred unique courses. Through this, ICS remained steadfast when it came to its founder's philosophy: providing "practical men with a technical education and technical men with a practical education." Or, in today's language, our philosophy and mission is to provide students and clients with affordable education and the ability to gain the skills and credentials they need to advance in their chosen field.
Foster began "teaching" through his informative Correspondence Column in the Mining Herald (he would later rename the paper the Colliery Engineer). Though you could say that those readers who benefited from the column were the first true ICS students, the first official enrolled student was Thomas J. Coates, a coal miner from Peckville, Pennsylvania. He enrolled in a three-year correspondence program for $25 on October 16th, 1891.
So today we happily celebrate the anniversary of our first student, Thomas Coates. Coates went on, after his training with ICS, to become the Hudson Coal Company Superintendent. We also celebrate all of you, our current students and alumni. In 2017, we're still dedicated to helping people gain the knowledge and skills needed to reach their goals and live better lives. Our history and our future would not be possible without you. We're so proud to be a part of the journey for the over 14 million students who have come through Penn Foster since Thomas Coates enrolled and overjoyed that we were able to help make their dreams a reality.
Source
James D. Watkinson, "'Education for Success': The International Correspondence Schools of Scranton, Pennsylvania." The Pennsylvania Magazine of History and Biography Vol. CXX, No. 4 (October 1996).