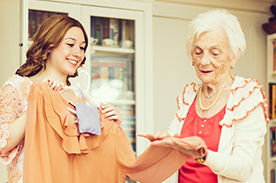 All of us may find ourselves in the same position someday: having to care for an ill or disabled loved one. With healthcare costs continually rising, most of us won't be able to afford to keep our relative in comfort at a hospital or hospice. Facing the prospect of at-home care around an already hectic schedule packed with work, family, life may make you nervous. But understanding what a personal caregiver does day-to-day can make it less overwhelming. Take a look at some of the tasks personal caregivers do below!
General housekeeping/chores. If the person you're caring for is still capable of self-care, for the most part, your role as a personal caregiver could be more easy-going. You'd buy groceries and run other errands, clean the house, do laundry, etc. Any task that could be harmful to the person's health and well-being, even if it's as simple as wiping up a messy table, can help your loved one heal. Sometimes, though, the circumstances can be more dire and you, as a caregiver, need to have a bit more knowledge than you may have already.
Administering medication. As our relative gets older, they may need more than someone to help with the odds and ends of living. Part of a caregiver's responsibility, whether they do so professionally or to help family, is to see to the health of the "patient." Not as involved as a nurse or doctor, a personal caregiver will see to it that a person's medicines are organized and dispensed at the right dosages and that they don't miss a dose. This would be on top of the general chores you may be asked to do. Depending on the situation, you may also be tasked with taking them or accompanying them to doctor's appointments and keeping up-to-date "records" of the visits.
Very basic healthcare. Besides the general day-to-day upkeep a patient you're caring for may require, you should also have a basic idea of infection control, nutrition, and proper body mechanics. While providing care for your patient, you'll be expected to create a safe, healthy environment as well as being able to know when you should be taking your patient to a doctor for emergency issues. You will also be taking care of any general first aid issues that may arise for your patient, such as bandaging and cleaning simple wounds.
As a personal caregiver to your family member or friend, you may be busy constantly taking care of them from providing meals and cleaning to bathing and caring for them in other ways. Being a caregiver to a family member is stressful under the best circumstances, so if you're feeling unsure that you can handle everything, taking an online personal caregiver course can be helpful. Having basic knowledge in any field or area makes things seem just a little more manageable!