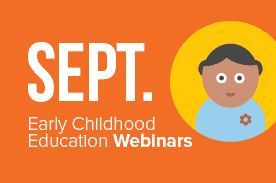 Interested in learning more about Early Childhood Education? Whether you are a student in our online Early Childhood Education program or a childcare practitioner already working in the field, check out this list of webinars brought to you by Penn Foster's Early Childhood Education faculty and register for one - or all - by clicking the links below.
Wednesday, September 6th @ 2:00PM EST
Topic - There are Only 168 Hours in a Week!
Instructor - Nancy Moretti, Department Chair and Senior Instructor at Penn Foster College and Career School
Synopsis - We are all unique, but one thing that we all have in common is the fact that there are 168 hours in our week and although we all have the same amount of time, we all have different priorities, obligations, and tasks that we must complete. As a result, efficiently managing our time is important to our personal, professional, and academic success. In this webinar, we will learn tips and strategies to assist in time management. If you struggle to get everything crossed off your to-do list, please consider attending this session.
Monday, September 11th @ 7:00PM EST
Topic - Open Office Hour: APA Citation, Research and Reference Assistance for Early Childhood Papers and Projects
Instructor - Penn Foster Librarian Betsy Reichart and a Penn Foster ECE instructor
Synopsis - Join Penn Foster Librarian Betsy Reichart and an ECE instructor for any upcoming APA in ECE Open Office Hour Session. In this informal Q&A session, we will discuss APA citation, references, research, resources and more. Bring your questions and take-away information that will enable you to be successful in your Early Childhood courses and written assignments. Attendance is optional for this Open Office Hour; no Certificates of Attendance are awarded for participation in this session.
Friday, September 15th @ 4:00PM EST
Topic - Trauma Informed Care and Practice
Instructor - Dr. Rebecca Hawley, Acting Director of the Early Start Plus (0-3) CA Project
Synopsis - This webinar will provide an overview of Trauma and Impacts on Brain Development in Young Children, Working with families that are experiencing Complex Trauma and the implications for providers working with high risk/need children and families in an ECE setting. During this session, participants will gain a basic understanding of brain development and the impacts of trauma on early learning and social and emotional development. Additionally, participants will take away direct tips and tools for adapting ECE environment to meet the individual and distinct needs of children with trauma backgrounds.
Tuesday, September 19th @ 4:00PM EST
Topic - Keeping the "A" in STEAM (The Musical Connection)
Instructor - Maryann "Mar." Harman, Music Educator, Composer and International Consultant at Music by Mar
Synopsis - Although many suggest the "A" is always a part of STEM, it isn't. Unless teachers see the "A", it's importance is diminished and usually left out. Come learn why music is an important, and necessary, part of STEAM. Participants will gain an understanding of why the Arts are an important part of STEAM, they will become advocates to keep the A there because they will be aware of how when it isn't there, teachers don't use it, and those who tune it to the webinar will be excited to use the music strategies.
Saturday, September 23rd @ 1:00PM EST
Topic - I Hate Math, Supporting Math Literacy in Young Children Without Losing Your Mind: Teaching Number and Operation
Instructor - Virginia Testa, Adjunct Instructor at Penn Foster
Synopsis - Today's early learning standards promote introductions of many mathematical strands: number and operations, basic concepts of algebra, geometrical and spatial thinking skills, basic concepts of measurement, data description, organization, representation, and analysis, learning to problem solve. In our first session, Virginia will be discussing the strands of mathematics, primarily focusing on number and operations. Future webinars will focus on each of the other previously mentioned strands of mathematics one at a time.
Thursday, September 28th @ 1:00PM EST
Topic - Review of Developmental Milestones in Young Children
Instructor - Jana Sarno, Board Certified Behavior Analyst, Professional Development Manager at North Shore Pediatric Therapy
Synopsis - During this session we will review developmental milestones including cognitive, social-emotional, motor, and language skills for young children. Specific attention will be placed on children ages 1- to 3-years old. Resources including developmental charts, tip sheets, and milestone trackers will also be shared.
Interested in pursuing further childcare training or taking the first steps towards a new career in Early Childhood Education? Check out our online Early Childhood Education program and learn childcare online, on your own time, at your own pace.