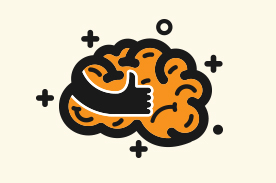 Whether you're starting class in a traditional classroom setting or you're learning in your living room after putting the kids to sleep, keeping the back to school spirit strong is no easy feat. Stress, life, everything can weigh you down. Taking part in study groups and meeting with your instructors can help you get back on track when you're at a traditional school. But what can you do when you're studying online and your instructors and classmates are thousands of miles away? Use what you have, of course: technology! Take a look at these tricks to use what's at your fingertips to stay motivated year round.
Social media. These days, social media is vital to how we connect with the world around us. We get news, updates on loved ones, and a constant stream of new content every second to keep us in touch. What used to be just a digital space to share photos and thoughts with friends has become the launchpad for our daily lives. With almost everyone you know on sites like Facebook, it's easy to set up long distance connections. If you're an online student, take advantage of your school's social media pages. Not only can you stay up to date with school info and news, you can connect with classmates, ask questions, and be involved. If you connect with our Penn Foster Education Facebook page, you can comment on posts, ask questions and leave reviews. You also can see photos of students' diplomas and check out their success stories if you're feeling stuck. One of the biggest motivators in traditional school is that feeling of connection. Just because you're taking advantage of online education to fit your studies around your life doesn't mean you have to sacrifice that feeling! And, if you're not a fan of Facebook, there's always Instagram and Twitter!
The Student Community. If you're attending a traditional school and you're going to class on campus each day, your school community is made up of the teachers, classmates, and school staff you see and interact with regularly. But what if you're studying completely online? Are you alone? We often rely on our classmates and peers to provide feedback on our work or, if we miss a class, a recap of what was learned and what notes are important. When you're studying online, at your own pace, you don't miss notes or class time. However, you do feel the lack of someone to lean on when you don't understand something or even someone to share your feelings about the class with. That's why you should join your school's online community! Not only can you form study groups with far away classmates, you can ask questions about things you're unsure of and connect with your instructors!
Start calling. On your telephone. Now, that was a bad attempt at referencing a Lady Gaga song, but in all seriousness when you're a distance education student, you should make sure you know all the phone numbers available to reach your school. Email, social media, and online communities can help a great deal when you're struggling to stay motivated. But sometimes, when you're fighting with a tough math problem the best person to help you is your instructor. While it's true that most schools, even online schools, have a traditional 9-5 schedule, waiting a bit to call in is worth it. A quick phone conversation can clear up a lot of misunderstandings and get you back on track! So, if you're stuck and feel like quitting, make sure to reach out to your teachers and teacher assistants for a quick motivation boost.
Using technology in everyday life has become a given in 2017. By that, I mean it's easier than ever to use a smartphone, tablet, laptop or desktop computer to stay connected with your classmates and instructors. When you find yourself in a studying slump and don't know how you're going to pick yourself up again, use what you have to find that motivation again. Call, email, Facebook message - there's an endless amount of resources to help you keep that back to school spirit year round. And remember: you can cross that finish line and call yourself a graduate!