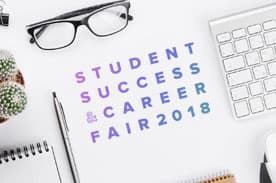 The Student Success and Career Fair, a week jam-packed with helpful, informative, and fun webinars for students, graduates, and those looking to make a change in their career, starts April 16, 2018! With so many webinars to choose from, it can be hard to narrow down the list of must-see sessions. Don't worry, we're here to help! We'll be breaking down the Fair webinar schedule into themes: Academic Success and Career Readiness. Take a look at the Career Readiness webinars coming up and register for the ones you're interested in on our website!
---
Monday, April 16, 2018
8:00 AM EDT | Professional Development for ALL Professions: How Will You Advance in Your Career?
Presenter: Katie Walsh, Instructor
12:00PM EDT | Effective Interviewing Skills for Students
Presenters: Melanie Andreoli, HR
Host: Katie Walsh, Instructor
1:00PM EDT | Business Essentials: Building the Hybrid Job Candidate
Guest Speaker: Shawna Ebbeson
4:00PM EDT | Internships: A Great Stepping Stone to Your Future Career
Presenter: Jeanne Laktash
Host: Betsy Reichart, Librarian
8:00PM EDT | Utilizing Technology in the Future Workplace
Guest Speaker: Dr. Neal Broman
Host: Tessa Scrobola, Instructor
---
Tuesday, April 17, 2018
8:00AM EDT | Personalities in the Workplace
Presenter: Dr. James Hurrell
12:00PM EDT | Explaining Excel's Capabilities for High School, College, and Career
Presenter: Joel Underwood, Strategy + Analytics Associate
2:00PM EDT | Ideas and Techniques to Rock that Job Interview
Presenters: Diane Placidi and Katie Walsh
3:00PM EDT | Career Readiness: Preparation for Work and Beyond
Presenter: Nancy Moretti, Associate Dean and Early Childhood Education/General Education Dept. Chair
4:00PM EDT | Job Searching Made Easy: Locate That Dream Job!
Presenter: Betsy Reichart, Librarian
6:00PM EDT | Building Your Successful Wedding Planning Career
Presenter: David Wood and Shelby Tuck-Horton, Association of Bridal Consultants
---
Wednesday, April 18, 2018
3:00PM EDT | Easterseals and the Many Job Opportunities in Early Childhood
Presenter: Angela Parham
6:00PM EDT | Speaking the Employer's Language: Essential Work Skills
Presenter: Bryan Maach
---
Thursday, April 19, 2018
8:00AM EDT | Say What: Online Etiquette for Communicating in the Digital World
Presenter: Shawna Ebbeson
10:00AM EDT | Networking Techniques
Presenters: Kristen Schenck and Jamie Kapalko, Career Coaches
3:00PM EDT | Top Skills of a Valued Employee: Do you Have Them?
Presenter: Rachel Wexler
6:00PM EDT | Earn While You Learn: Accessing the Year Up Opportunity
Presenter: Maria Melecio, Guest Speaker, Year Up
---
Friday, April 20, 2018
12:00PM EDT | Developing Your Professional Feedback Circle
Presenter: Alex Grant
3:00PM EDT | Early Childhood Education: From Student to Professional
Presenters: Brenna Rizzuto and Dana Lorenz, Bright Horizons
6:00PM EDT | Using NaNoWriMO to Achieve Creative Goals
Presenter: Kathryn Borne, Teaching Assistant
If you're getting close to graduation, you're just starting out in your career, or you're looking to take the next step in your professional journey, check out these webinars for solid career advice. Even if you're just starting out in your Penn Foster program, drop in on any sessions that sound interesting. You can learn something new every day!