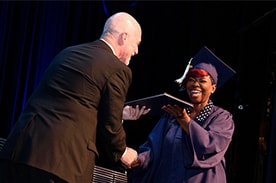 Whether you're a fashion fanatic or have a daily "uniform" because you don't want to waste time picking the perfect outfit, getting primped and prepped for a big event can be stressful. It's even more stressful when the event is marking a major milestone on your journey to crush your goals. So, if you're getting things in order to walk in Penn Foster's graduation ceremony this June, the last thing on your mind right now is what you're going to wear on the big day—outside of your cap and gown, that is! But once your travel plans are settled and your tickets purchased,* you may start getting anxious about looking your best on the greatest day of the year! To ease some of that future frustration, check out these great grad looks and style tips from the 2017 Penn Foster Graduation for inspiration!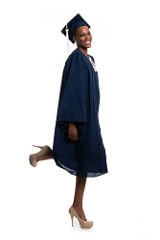 Your cap and gown is the centerpiece; accessorize around it!
The cap and gown is the traditional focus of the graduate ensemble, but for many, what you're wearing under and around the cap and gown is a big deal. This is your big day, so think of what you choose to wear as an extension of your grad garb, a part of the whole. If you're feeling good about what you're wearing, you'll walk across the stage with head held high and confidence in every step you take. Speaking of steps, one big trend at last year's ceremony was pairing your stylin' grad gown with a killer set of shoes. Whether heels, flats, or a polished pair of oxfords, shoes can give you the extra confidence you need!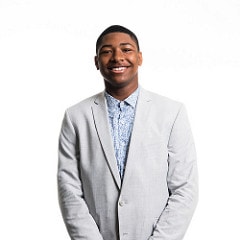 Embrace the start of Summer with light fabrics and colors!
Graduation happens in late Spring, when the day can either be overcast and chilly or sunny and humid. And, though the venue is air conditioned, a large group of people can make for a sweltering atmosphere on a muggy day. That doesn't mean you can't look professional and put together, though! Light fabrics like linen for dresses and suits tend to be more "breathable" and will keep you looking fresh. Light colors also reflect the heat of the sun instead of absorbing it, so a blue button up and a light suit jacket like this gentleman wore can keep you stylish and cool (in more ways than one) on your big day.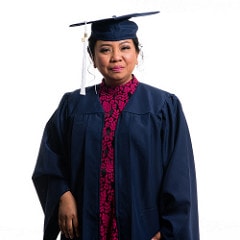 Add a pop of color!
Like many big events, there's a lot of tradition around what we wear on graduation day. Whether it's a white dress or a conservative suit, tradition says these are the only appropriate options to look put together and ready for the future. But, it's 2018 and some style rules and traditions are absolutely meant to be broken! Many of our stylin' grads went for a pop of color beneath their gown. Give it a go and don't be afraid to wear a color or pattern that makes you happy!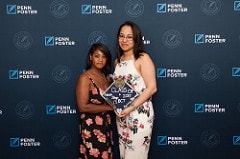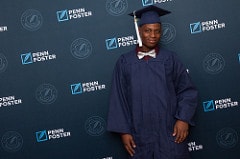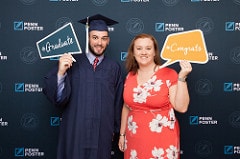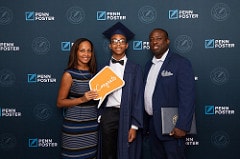 Confidence and pride are the best accessories!
Grad style can feel like it's a huge deal when you're getting dressed on your big day. But, no matter what you wear, the thing that makes each and every one of our graduates stylin' is the confident smile they wear as they walk across the stage. Knowing you've accomplished a goal and hit a major milestone on your journey is amazing. Be confident and proud of what you've done. You deserve this moment!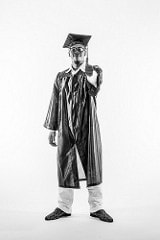 How will you graduate in style?
Don't forget, the 2018 Graduation is scheduled for June 2 at Mohegan Sun Arena in Wilkes-Barre, PA!
*Grads, don't forget this important step: after you fill in your information on the registration form, follow the link to the ticketmaster website to purchase your grad ticket. If all steps aren't complete, you may not be fully registered!