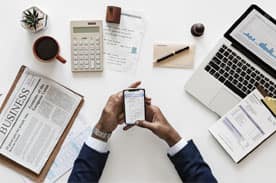 If you're looking to avoid the traditional 9-5 lifestyle, be your own boss, and specialize in what you love, freelancing just might be the career path for you. Your entrepreneurial nature can make you a valuable income and provide you with a flexible lifestyle. If you want a career that can feel like an adventure everyday, check out our tips on freelance!
Sell yourself.
Freelancing might seem like a one-(wo)man gig, but people skills and human interactions are key to running your own business. Maintain and grow a strong network of colleagues and friends who love working with you and let your skills shine right in their faces! As a freelancer, you can't be afraid to self promote and let your contacts see for themselves that you are the best around at what you do. Always take an opportunity to meet new people in your industry and keep up with your contacts. Letting your network know you care about their personal and professional milestones goes a long way. You never know when they could have an opportunity that's perfect for you, and you want to make sure you're top of mind when that time comes. On that note, make sure you're easy to find and easy to work with. Maintain a strong social media presence to remind your network that you are an expert in your industry and someone they would enjoy seeing around the office or conversing with over the phone. Be on LinkedIn. Be active on LinkedIn.
Don't be afraid to get paid.
Remember that you might not have a paycheck every week of the year, so make the ones you earn matter! Often times, freelancers earn much more on an hourly basis than full time employees to account for just this. As a starting point, research the going rate for freelancers in your industry by looking to Google, LinkedIn Groups, and your own network. Don't forget to factor in your expenses when determining your rate as well. What resources will you need to complete the project you have been hired to do? A laptop, a specific program (like Photoshop), Internet, a phone, etc - this stuff adds up! Also remember that you are a specialist and deserve to be compensated for your unique skills.
Be flexible.
Keep in mind that you will likely be employed because the company that contracts you needs a lot of help and they need it NOW. Being flexible with your hours to accomplish your given projects and meet deadlines is key to being a good freelancer. Go above and beyond; the more effort you put in to show you care, the better the chance you have of scoring an extended contract. That being said, keep in mind that being a freelancer means you are in charge of your time and should make a schedule that works for both parties. Plan the personal time (hours, days) you will need in advance and let your employer know your limits. Oftentimes, employers will try and get the most bang for their buck with you so firm boundaries help to prevent you from getting taken advantage of and allow you to live the more flexible lifestyle you signed up for by avoiding a traditional work set up.
Specialize.
Find the niche in the market where you fit in. Make sure your skill set is unique and valuable. Think about what separates you from the full time employees your companies hire. Why do they need you? Why would they hire you versus another contractor/freelancer?
Be realistic.
Freelancing isn't for everyone. The business aspect is a lot of work. It requires a hefty dose of motivation, structure, and discipline. You might not love every project as much as the rest, you might not love every company as much as the rest, and you might not love every coworker as much as the rest, but you have to be consistent and professional. As you will likely be taking on multiple projects at once, remember that each one needs 100% of your care and commitment because each employer needs to decide to hire you each time. You need to seek new opportunities and put in a lot of effort to maintain relationships. You can never miss a deadline, or you will be replaced with someone who can do a better job of staying on task at a lower rate. You need to set firm expectations with the companies you work for and then exceed them to constantly prove your value. And... you need to be really good at doing your own taxes because they get a bit more complicated.
If you are willing to put in the entrepreneurial effort to run your own business, sell yourself, negotiate your rates, be flexible with the company's needs, and be realistic about staying motivated, freelancing can be rewarding both monetarily and professionally. Want to learn more about ways Penn Foster can help you gain you these specialized skills? Check out our programs.