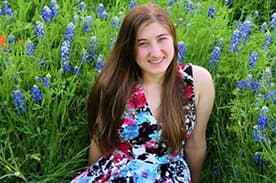 Over the past month, we've learned a lot about some strong women who work at Penn Foster and had a chance to share their advice and wisdom with all of you! We read some inspiring stories from our students, as well! Everyone who submitted their story to our first ever Penn Foster Women's Leadership Award contest is a shining star and an inspiration to all of us. However, one story really grabbed us; Caralissa wrote about what being a leader is and what she feels we need to do to empower more women. She's our 2018 winner and, wrapping up our celebration of Women's History Month, we want to share her story. Check it out and get inspired to make a difference in your own community!
Q: What makes you a leader?
A: I'm a Dispatcher for Police and Fire. I began working at the police department as a volunteer in the Criminal Investigations Department and, eventually, applied to become a Dispatcher. Currently, I'm studying at Penn Foster in the B.S. in Criminal Justice Program in order to further my career and achieve my goals. Upon graduation, I intend to pursue my Master's degree in Forensic Science to achieve my goal of becoming a Crime Scene Technician/ Forensic Scientist. I consider myself to be a leader in many ways. In my career, I must lead the public on a day to day basis. Whenever I receive a 911 call, I instruct the caller on what steps they need to take to ensure their safety. Each and every call is unique. I need be ready to adapt to constantly changing circumstances. I maintain an attitude of absolute professionalism in every scenario. When I receive a call that is emotionally charged, or even take a call from a perpetrator of a crime, it is imperative that I remain professional and not let my emotions take control. I'm a leader because I make difficult decisions that can affect other's lives in critical ways. I determine which officers, as well as how many officers, to dispatch to a call. I am a leader because I must effectively utilize problem management techniques. Many of our callers are highly agitated for various reasons. Because of this, I must carefully work to resolve issues and present the callers with appropriate solutions. I am leader because I understand people. I believe the most integral part of being a leader is understanding those you work with. In my case, while I do have partners at the police department, it's the public that I truly have to take the time to understand. I treat every caller with respect, whether they treat me with respect or not. I understand that when someone calls 911, they will most likely be in a heightened emotional state. I am a leader because I have taken control of my life and have chosen to follow my dreams. I have goals and ambition for my future and I refuse to accept failure. Sure, I have encountered plenty of road bumps along the way, but I do not let these difficulties distract me from my goals. I allow myself to learn from my mistakes, and let my mistakes be a stepping stone towards new strengths and capabilities. I am a leader because I am strong and I believe in myself.
Q: Why is empowering other women important to you?
A: Women are often underappreciated and do not have access to the same opportunities as men. It is important to stand together as women and encourage one another to strive for the best, to strive for success. Success will mean something different to each and every woman. To one woman, success is having a leading position in a Fortune 500 company, while success to another woman may be staying at home and raising smart and respectful children. Empowerment is not about claiming every woman needs to be a business professional, a doctor, or a scientist to be successful, but rather ensuring every woman knows that she is capable of accomplishing whatever she sets her mind to if she works hard. Women, just like men, should be in control of their own lives and have the ability to make life-altering changes of their own without the approval of someone else. Empowerment should focus on ensuring that there is gender equality in the workforce and in other aspects of life.
Q: How have you helped to empower other women?
A: I strive to encourage my fellow women every day. Whether it is at work, my personal friends, or other students on the community. It is important to remind other women that we are no longer stereotypes in a relationship. Just because you are a wife, does not mean that you are secondary in a relationship. It is more than ok to be the "breadwinner" in the household and to pursue your career goals.
I'm marrying a wonderful man in the Air Force and was told by my former supervisor, whose husband was in the Army, that it was useless for me to accept the new position I was offered at the police department. She claimed that it was unrealistic that, while being married to my fiance, I would be able to pursue a career. It is statements like these that can truly discourage other women. I politely, but firmly, disagreed with her. I have a future of my own and a career that I am steadily working my way towards with education and career experience. Through speaking with some of my friends, I was able to encourage several of them to pursue a college degree while being mothers and wives. It can certainly be tough with other responsibilities, but it is important that, when you have a goal, you strive to succeed in it and that is what I hope to empower others to believe.
Caralissa believes that each and every person can achieve their goals if they work hard and believe in themselves. At Penn Foster, we feel that same way about each and every one of our students. Besides leading in her community, Caralissa is also taking steps to lead in the Penn Foster Student Community as a 2018 Ambassador. We couldn't be more proud of what she's accomplished to date and can't wait to see what she does in the future! Congratulations, Caralissa!