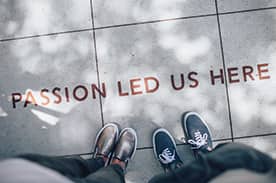 The 2018 Graduation is on the horizon! While we're still about a month and a half away from The Big Day, happening on June 2, some students may be worried that they won't be eligible to join this year. If you've become discouraged or don't think you'll finish your lessons and exams by the May 1st deadline, check out some advice from one of our Student Ambassadors! Besides this intro paragraph and the conclusion I'm going to write at the end, this whole post was written by Mr. Rocco Pasquarello, Jr.
Rocco, a new 2018 Student Ambassador, is currently in the Freelance Writer diploma program. If you caught the Make Your Jump webinar in January, you got to hear a bit of Rocco's story and some advice on conquering your fears to make your goals happen. Rocco has also written for and edited newsletters for several groups that he is a member of. Check out the amazing advice he wrote to our High School students! This advice is applicable to any student, though, so give it a read.
Finishing the Journey By Rocco Pasquarello, Jr.
Picture this: You're running a race and at the halfway point of the race, you just stop and decide "I don't want to finish." We can even go one step further and look at a work project you have been assigned; it's due in 7 days, however after 2 days, you start to procrastinate and do not engage with or work on completing the project. These examples center on a very key pattern—not finishing what you started! The option to give up seems to be more popular than going all the way to the finish line, unfortunately.
This issue is prevalent with high school students who tend to drop out or stop short of getting their high school diploma for a variety of reasons, some not within their control. While the high school dropout rate has decreased in recent years, the number of male and female students who fall short of getting there high school diploma is still fairly high.
As a student of Penn Foster, I'd like to share some advice I've learned: fellow students who may be enrolled in Penn Foster's high school program (or any program, really), please understand that, though your journey in school can be challenging at various times, quitting or giving up should never be an option! Anything you desire to achieve in life requires dedication, determination, persistence, and confidence! But what, exactly, does it mean to apply these traits to your goals?
Dedication: You started the journey and enrolled in high school; make goals for what you want to achieve along the way!
Determination: Lock down your belief that, no matter what happens, you will make it to the finish line! You've got this!
Persistence: Put in the time, effort, and don't let any distractions hinder your journey.
Confidence: Consistently believing in yourself; regardless of what people say about you or to you, you will achieve what you believe!
Stay focused on the goal; visualize seeing yourself walking across the stage, getting your high school diploma. Most importantly, complete the journey you began, because victory is the ultimate goal!
Wow, thanks so much, Rocco for this amazing post! Like he mentioned, staying focused and keeping on task can help you reach your goals. And, if you're close to the end of your program, use the thought of walking across the stage at the 2018 Graduation as motivation!