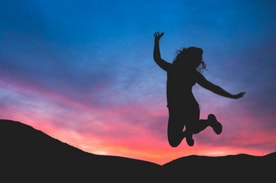 For anyone who has had to hit "pause" on their career, jumping back into the workforce or moving into a position that requires more responsibility is anxiety inducing, you may find emotional roadblocks immediately flooding your mind.
You need to learn new skills, refresh old ones, and prove that you have what it takes to be in your job. It feels like failure if you can't seem to grasp new ideas and adjust to new routines right away.
That lack of confidence can stop your progress. Don't let it! Instead, tackle the emotional roadblocks holding you back with these six ways to make a strong career comeback.
Mental prep.
Stress and anxiety change the way you look at a situation. Tasks you'd normally view as mildly difficult become more challenging than climbing a mountain. While some stress can motivate you, too much might cause you to look at your struggles as mountains.
When you want to make a strong comeback, take some time to mentally prepare yourself. This could be taking ten minutes to sit and finish your coffee before heading to work, listening to a song that pumps you up, or just having a quiet moment to think. Clearing your mind will help you focus on the day ahead of you so you can be your best self at work.
Ask questions.
You're scared that if you ask too many questions about different projects and tasks, your new boss or your new team will think less of you. Don't let that doubt creep in and stress you out. Asking questions is part of the process.
No one knows everything, so thoughtful questions about the work you're expected to do will show that you're truly interested in the day-to-day of the position. You'll learn more about your position and show the other employees and your boss that you want to do the best job possible.
Make a friend at work.
Besides having someone you look forward to talking to each day, a work friend will give you a daily support system you can trust. He or she will be able to offer advice and insight on the best way to move forward, as well as be a sounding board for your ideas and anxiety. It helps to have a shoulder you can lean on when you're struggling or nervous.
Dress for success.
Everyone always throws out the phrase "dress for the job you want" in career-focused articles. Dressing for the job you want doesn't necessarily mean you should wear a chef's hat because you want to work in a five star restaurant; it's more about dressing for confidence. Wearing clothes that make you feel good will help you stand taller and feel like you can tackle anything that comes your way!
Be prepared. The best way to plan for a career comeback is to make sure you are prepared with the knowledge and skills to set you up for success.To avoid the stress and struggle that can throw you off your stride, make sure you get ready to return.
Taking online courses to refresh your skills and strengthen your confidence can help you make a strong comeback to the workforce or in your company. Whether you're looking to rejoin a specific field or rise up in your company, a course like Penn Foster's Career Readiness Bootcamp can help you sharpen your soft skills and prepare you to take the first step toward re-entering the workforce or getting a promotion.
If you're looking to completely switch industries, completing an online, career specific ;program like Small Business Management or Retail Supervisor, can prepare you to take the first big step toward a new position.
Act confident. The "fake it til you make it" philosophy almost never fails. Basically, if you're not confident in your comeback yet, act like you are. Pay attention to your posture and making sure you stand up straight, shoulders back. It's also looking your coworkers and bosses in the eye when you speak with them and having a firm handshake when you meet new people.
Be decisive. Make an informed decision and stand by that. Often, there is no clear answer, so you have to be firm in what you think is correct. Don't be apologetic. If something doesn't go as planned, find a way to fix it and move on. Eventually, you'll have pretended to be confident for so long that you actually are confident.
There's no better time than now to get ready for your career comeback. With Penn Foster's online programs, you can feel ready to start a new chapter in your life. Not sure what program can help you the most in your field? Reach out to an Admissions Specialist to find the one that's right for your goals. They can be reached at 1.800.214.6230.