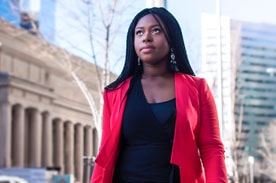 Perhaps you've tried school before and it just didn't work out. You had other more pressing needs shift your focus away from your studies. If you've dealt with financial hardship, taking care of children or other family members, long work hours, or physical or mental health issues, you know what it's like to feel a lack of control over your time and resources. Maybe you were learning in an environment that just did not fit your style; you're someone who does better without other distractions or you learn at a faster or slower pace than classrooms you've been in. No matter how you got here, or what circumstances you're facing, the future is yours to own! You have the strength and the power to make an epic comeback and we're here to help.
Eliminating Excuses and Taking Control of Your Life
School, something that was once required in your life, is now a choice and you get to decide to come back to it on your own terms. If you've been craving a career change, think you are on the cusp of a promotion, want to set a good example for your kids, or just want to prove to yourself that you can do it, NOW is the time. You are in control over your future and happiness, so make them epic!
It's not easy. Rising above a tough situation requires massive mental strength. It can feel like many parts of your life are out of your control; you're just doing what is required of you each day to meet your needs and the needs of those that depend on you. When you have so much going on already, adding one more thing to your plate can seem daunting, but it might just be exactly what you need to make happen.
With everything else going on in your life, you need to prioritize. Matters like taking care of yourself, your family, your finances, and standard errands and tasks take urgent priority. However, focusing on only what is urgent can quickly stick you in a rut where you meet your needs, but nothing ever gets easier or better. If you want to advance in your career, set yourself up for higher earning potential, and gain more confidence, it's important to find a way to add school to your daily to-do list.
Although it's easy to enroll, making the commitment to learn, study, and succeed is takes a lot of effort and motivation. If you've decided to take the leap, you're on your way to changing your life and your comeback story is just beginning.
Feel Empowered by Your Comeback
When you stop making excuses that prevent you from bettering your life, you find that it is possible to turn your dreams into reality. Once you start proving to yourself that you can do the things you never thought you could, you will find that within yourself, you have unlimited potential. The reason we refer to the start of this journey as a comeback story is because often times, when you come back to something and succeed, that's just the start of more triumph that is yet to come.
Feel empowered by your comeback! Remember why going to school matters. Gain knowledge and skills and use them to improve your community. Increase your confidence and use that to stand up for yourself when asking for a promotion at work or when applying for a new job. Let it sink in that there is nothing you can't do if you really set your mind to it. If other people can go to the moon, become a world leader, save lives, and bring joy to others there's nothing stopping YOU from doing the same. With hard work and fierce determination, you're on the path to making your dreams a reality.
Start Your Comeback Story at Penn Foster
If you know what you want to do, search the online options out there, like Penn Foster. With accredited, online education becoming more normal, completing your education from home for the career you want is more often than not the best route. Once you can add more education to your resume, the possibilities are endless!