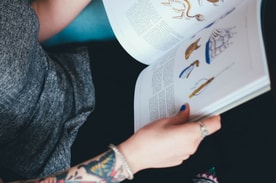 "When I graduated high school in 2013, I wasn't able to go straight to college," said Bethany Jones, a current Penn Foster Student Ambassador. "I was so determined to go back to school, though." Working at a minimum wage job, Bethany didn't have the time—or the resources—to enroll in a traditional school. Despite being determined to have a career and start building her future, she found herself depressed and unsure of her next step, though she didn't lose sight of her goals. Then, she says, she discovered Penn Foster College and decided to start her comeback, enrolling in the Veterinary Technician degree to work toward doing something she found meaningful, eventually switching to the Dog Obedience Trainer program, which was better suited to her plans.
Your story may be similar to Bethany's. You were unable to follow the "traditional" path of heading to college, technical school, or a good career straight out of high school. The tuition fees for college were too expensive or you decided to take a year off before going back so you could think about what you wanted to study. That year off lasted longer than you expected and the cost of going back left you discouraged or worried about being able to actually pull off a successful comeback. Your age, your worry that you can't absorb all of the information, and working a full-time job all add to the roadblocks that prevent you from finishing what you set out to do. They can be in a traditional school setting, but with online courses that can be completed around your schedule, on your time, back to school success can fit your life. Myria Oldfield-Emmons, another Penn Foster Student Ambassador and Vet Tech student, can relate to that.
Like Bethany, Myria went straight to work after high school. "I was working at jobs to pay the bills," she said, "but not working toward a career." During a cross-country move with her husband, she decided to change that.
Myria had gone back to school online before. She'd always thought about working with animals and enrolled in a Vet Assistant program that seemed perfect to help her reach her goals. She completed that program and realized how much she loves veterinary medicine. Inspired by this, she began looking forward to furthering her education and taking the next step to become a Vet Tech. But, to her devastation, she soon found that she couldn't move forward because the school she completed her Vet Assistant courses with didn't have the necessary accreditation. At a dead stop, she was unsure when she first found Penn Foster. The school she'd previously attended was online and she didn't want to make the same mistake again. She did some research and she decided to enroll with Penn Foster, who had not only national accreditation for college degree programs, but also the important designation as an American Veterinary Medical Association (AVMA) accredited school. Her studies would follow the standards of the AVMA and give her the tools to take the first steps toward her dream career. Myria made her decision and officially enrolled.
Enrolling in an online college helped both women take the first step toward tackling the hurdles they thought prevented them from going after a future they wanted. Where traditional education systems wouldn't fit with a busy life that includes working to survive financially, going back online to complete coursework and assignments on their own schedule made it easier to believe they could make it to graduation. Myria is almost there! She's finishing her fourth semester classes in the Vet Tech degree program before tackling the hands on externship required to learn the final skills that will prepare her for work. Bethany is enrolled in the Dog Obedience Trainer program to work toward her ultimate plan of owning her own business. You can do the same and find success with the right tools. No matter how old you are, how long it's been since the last time you were in school, you can use the freedom of Penn Foster's flexible, online courses to gain the success you thought was impossible.
What do you want from your future? Are you looking for a job that gives your life meaning, like Bethany and Myria? It's possible to make it happen with determination and a school like Penn Foster that fits your life and your goals. Comeback success isn't just making it through an exam or getting good grades; it's also taking that first step toward getting what you want from life. You can have your own comeback success story and pick up where you left off with your goals. Learn more about how you can start your own story with Penn Foster here.
Read more about Bethany and Myria's success stories on the Student Community and get the inspiration you need to make your comeback today.