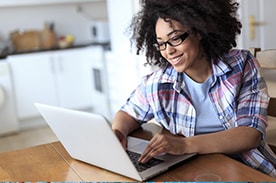 At Penn Foster, we're ready to celebrate back to school season! While we're a self-paced online school with no set start date, there's always something special about this time of year. Back to school means a fresh start and a renewed sense of determination to reach your goals. For traditional students, there's no real choice about when you start the school year. They have to go back to school on the day the school district selects. Even students who attend a traditional brick and mortar college or technical school are expected to return to their schools at specific times during the year. While many students may groan and complain about having to return to their studies, it makes their education decisions much easier — they know when to sign up for this course or that course, when to get supplies, etc. For adult learners, or those who are trying to balance work and family, with no room for scheduled classes, it can be a frustrating back and forth trying to decide when or even if you should further your education. Instead of counting all the reasons why you can't or shouldn't go back to school, look for these signs that can help you know when is the right time to make your education comeback.
You feel stuck.
You've been at the same job for years and feel like you have nowhere to go. You know you aren't able to apply for a promotion because you don't meet the educational qualifications for the position. Everything is routine and you feel unhappy or uninterested in what you do, making each day drag. You're discouraged and can't think of how to change things. If you can't see a way forward besides applying for the same position you dislike at another company, go back to school. Furthering your education, learning new skills, and taking ownership of your future can help you be more marketable or prepared for a fulfilling career.
Even if you like your job and the company you work for, you may need to go back to school to get the skills and knowledge to rise up through the ranks and qualify for a promotion.
You've figured out what you want to do with your life.
After years considering all your options, you've finally figured out what job you want and your current career is not it. When you graduate high school, you're expected to know what you want to do with the rest of your life so you can declare the right college major or move right into the workforce. But when you aren't sure what your calling is, it seems much more practical to avoid the student debt and hold off until you know what you want to do or jump from job to job looking for the right fit. But life happens. The year you took off to find yourself turns into two and five and ten. However long it takes, eventually you know what you want to do and, as an adult, you're prepared to take the steps needed to make it happen. The only thing that might hold you back at this point is the worry that it's too late, or that you don't have the time to devote to classes. For those adult students who know what they want to do but worry they don't have the time or resources to do it, online courses are a practical solution. Offering self-paced programs that can be done when you have free time, with affordable tuition plans, Penn Foster can help you take the first step toward your dream job. It's never too late!
You need a confidence boost.
Going back to school isn't just about the money you can earn from a pay raise — though that's definitely a plus! Going back to school is also about gaining confidence in your skills and in yourself, giving you the added boost you need to take the next step in your career. Online training programs like Career Readiness Bootcamp can help you learn the leadership skills that are often necessary for a promotion. Marckus Perez, a graduate of the program, said in a Forbes Grads of Life article that he knew his boss was looking for a leader and he wanted to become that leader. His skills training through Penn Foster helped with that and he proved to his employer he was ready for the promotion he's wanted for years. If you're anything like Marckus, you may not be sure, at first, that training is what can make a difference, but when you know what you're doing you can be confident in yourself. The skills learned through online courses can help you prepare to make a comeback in your career and become a leader in your workplace.
Whatever sign prompts you to make your education comeback, there are more options than ever to balance going back to school with your work and family responsibilities. With self-paced and flexible online courses at Penn Foster, you can take the first steps toward accomplishing your goals and celebrate back to school season with confidence.