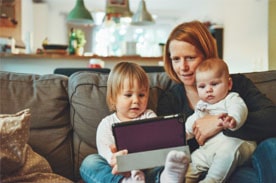 As a military spouse you've learned how to live a mobile lifestyle. When you could get new orders and move at any time, you need to be able to take the most important things with you. And that includes your education. With online learning, you don't have to worry about missing out on school when you move. You can take your education with you whether you're moving across the country or to the other side of the world. Your MyCAA benefit and support from an online college that understands the demands of military life can help you get the education you need.
What is MyCAA?
The Military Spouse Career Advancement Accounts Program, or MyCAA, provides financial assistance to eligible military spouses who are pursuing associate degree programs, licenses or credentials. Each fiscal year, you may be eligible for up to $2,000 from the Department of Defense. In most cases, your benefit will be capped at $4,000.
To get this benefit, you must be the spouse of an active duty Army, Navy, Air Force or Marine Corps service member in pay grades E1-E5, W1-W2 or O1-O2. If your spouse is an activated Guard or Reserve member within those pay grades, you may also be eligible as long as you can start and complete your program while your spouse is on Title 10 orders.
Why Choose Online Learning?
Online learning offers some pretty big advantages for military spouses. It gives you the flexibility to study when you want from where you are. Unexpected orders or a change of command won't stand in the way of you earning your degree, license or certification. Here's what you can expect from an online learning program:
No physical classes to attend. All of your classes are online and on demand. You don't have to show up in a classroom at the same time as everyone else. If your spouse is on shift work or deployed you can still take care of your family and other responsibilities while studying online.
Online and accessible. Because classes are offered online, you can move or travel without disrupting your studies. Access your classes from the military lodge, the base library or the comfort of your own home. All you need is an internet connection and computer, tablet, or mobile device.
Flexible. Study at your own pace. Being the spouse of an active duty service member, an activated reservist, or deployed guard member means that your schedule isn't always predictable. With online learning, you can study when you have time and still make progress toward your goals.
Customized Support. You'll get more than just classes. You'll also have access to a whole support structure made up of instructors, career experts, and fellow students who can help you stay on track even when life gets hectic.
Online learning gives you a flexible learning experience with the tools and support you need to be successful, no matter how big your goals are. Your spouse's unpredictable schedule doesn't have to keep you from building a brighter future for you and your family.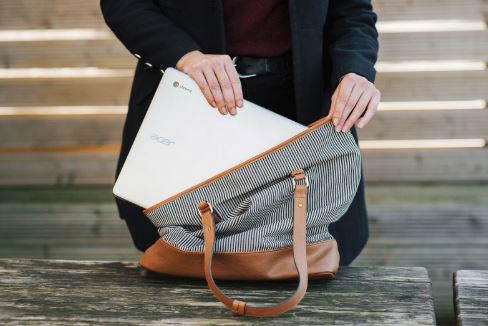 Choosing a mobile career
As a military spouse, it can be challenging to find a career that you can take wherever you have to go. Online learning can set you up with a great career that is also portable. MyCAA encourages spouses to pursue education that will help them find a portable career. Consider these programs perfect for military spouses on the move.
Virtual Assistant — Build administrative and technical skills so you can support business clients from your own home. Work as a freelancer or through a virtual staffing company. You'll learn about starting a virtual assistant business, how to communicate with clients, how to manage your time and workload, and the essential tools of the trade.
Medical Transcriptionist — Work from home, in a clinic, or even for an ambulance dispatch service as a medical transcriptionist. You'll learn about ethics and confidentiality, medical billing and health insurance, as well as the basics of medical terminology, pharmacology, and pathology. This program will prepare you to sit for the Registered Healthcare Documentation Specialists (RHDS) exam offered by the Association for Healthcare Documentation Integrity.
Child Care Professional — Whether you want to work as a preschool aid, in-home child care provider, teacher's aide or at your on-base Child Development Center, this program will help you build the skills you need. Start working toward your Child Development Associate (CDA) Credential and earn 38 continuing education units. You'll get comfortable working with children from birth through age eight.
Veterinary Technician — If you want to work with animals, a career as a veterinary technician might be right for you. Penn Foster's fully AVMA-CVTEA accredited Veterinary Technician training program will help get you started. This program will prepare you for the Veterinary Technician National Exam (VTNE). You'll even get a chance to gather some hands-on experience through externships at VCA Animal Hospitals or a veterinary clinic or hospital near you.
These are just a few of the degrees and career certificate programs available through Penn Foster. For a full list visit Penn Foster Programs.
The support you need
Penn Foster students study on their own time, but they're never alone. You'll be able to contact your professors by phone or email to get your questions answered quickly. Every student also has 24-7 access to our robust online student community. Meet fellow students, work through challenges, and build a support network from wherever you are.
Penn Foster can help you make the most of online learning to start the mobile career you've always wanted. Contact us for more information about any Penn Foster program.