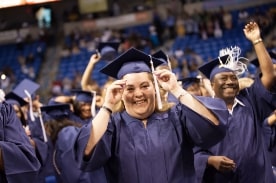 That's a wrap!
Can you believe we're about to start another new year? It feels like 2018 began only yesterday! This past year, you've been busy studying, taking notes, passing exams, and each day has gotten you closer to graduation. We're #pfproud of all you've accomplished! We've gotten a lot done this year, so before you tackle those 2019 goals, let's take a second to remember the awesome things that happened and the progress we've made together. Check out our top 18 highlights from 2018.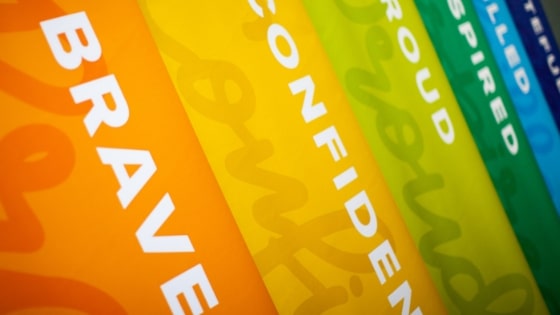 1. 44,000 students graduated from high school, college, and career programs. Penn Foster students are ambitious, independent, and driven to accomplish their goals and each of the 44,000 graduates in 2018 inspire us. We can't wait to see how many of you graduate in 2019!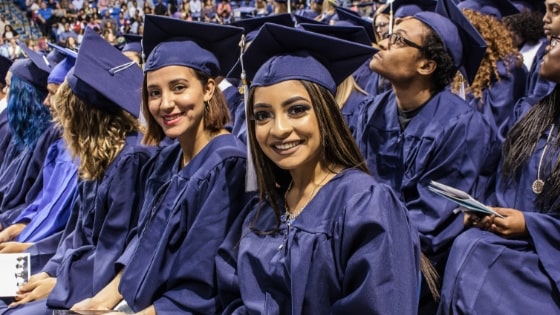 2. We welcomed the New Year with "When to Jump" author, Mike Lewis. Making a jump to an entirely new career is intimidating. We teamed up with Mike and three amazing students, Kathy, Rocco, and Brittney to learn how they are following their dreams. Check out the webinar to leap into the new year with enthusiasm!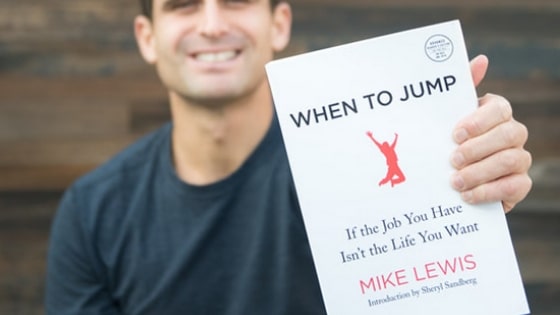 3. You helped us choose our Graduate of the Year! We had the opportunity to read some amazing stories from graduates and your votes helped us choose our five finalists! It was tough, but in the end, Kevin Stankovich, a graduate of 4 programs (so far), won! Kevin used his education to not only start his own contracting business, but to also teach others as an instructor at a local community college.
4. In honor of Women's History Month, we gave our first annual Women's Leadership Award. So many Penn Foster women are leaders in their communities! You're inspiring and we were proud to name Caralissa McQueen as our first winner. Caralissa impressed us with her dedication to her job as a dispatcher for local fire and police, where she treats every caller, no matter the emergency, with care and respect.
5. We welcomed Lisa Rutsky as our Vice President of Education and Academic Dean. Lisa is a dedicated educator whose commitment to student success has helped us bring new and exciting changes geared toward preparing students to take the first steps toward reaching their goals. That includes making updates on our grading rubrics for writing assignments, supporting the creation of our new Learning Centers, and more!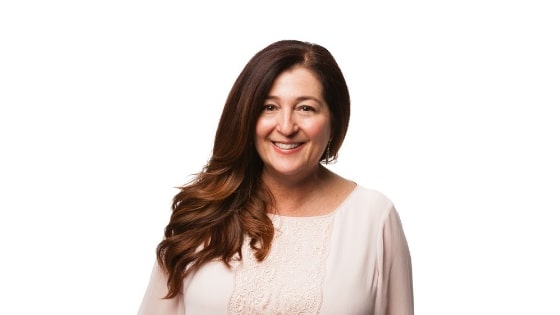 6. Brian Brown became the Principal of Penn Foster High School. If you're a high school student, you may have spoken to him! Brian believes that Penn Foster students are some of the most self-motivated and inspiring people he's met and he, along with his team of instructors and teaching assistants continually work toward making sure you get the best education possible, on your schedule.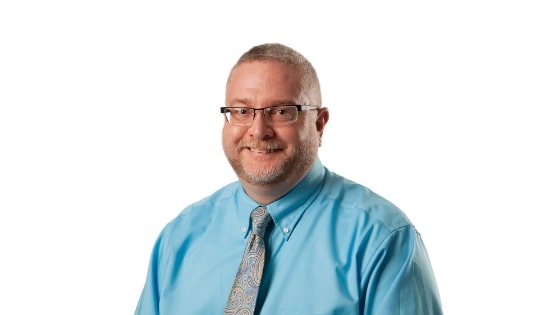 7. We launched 6 new programs and made updates to two more. You want to find a job you like, and one that can help pay the bills. Or you want to move up at work, but aren't sure where to start. To help prepare you to make your move, we launched programs that can give you the skills you need to take the next step. We made updates to our Pharmacy Technician programs and our Locksmith and Home Security Technician course to better prepare graduates to be confident when they find a job in the field. Our new programs in 2018 included
8. We held the largest Penn Foster graduation ceremony to date on June 2. Every graduation gets bigger and meeting those who travel to Pennsylvania to walk the stage is the best part of the year. This year, we held the ceremony at Mohegan Sun Arena, a venue that hosts concerts, hockey games, and more. 446 graduates joined family, friends, and Penn Foster staff in celebration of their accomplishments to walk the stage at graduation. It was an emotional day, buzzing with the excitement of those who faced every challenge and achieved goals they may not have ever thought possible.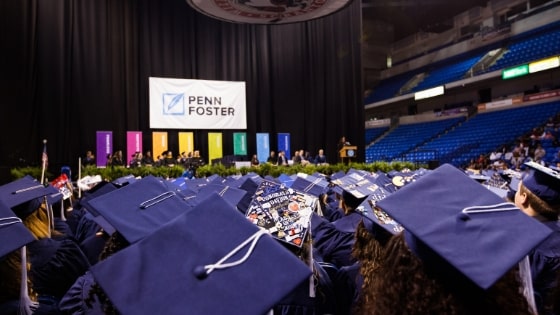 9. We got musical. The right music can get you ready for a study session so you can ace that next exam. We've made playlists that can get you in the right frame of mind to keep moving forward.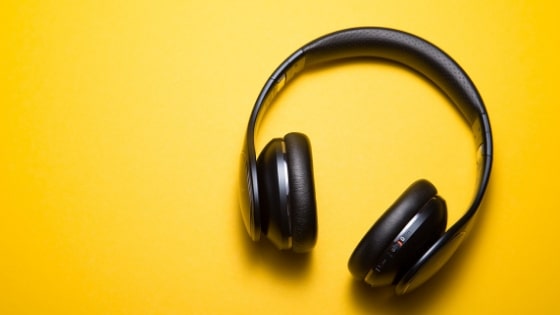 10. We revamped the Student Ambassador program. Penn Foster Student Ambassadors are here to help you on social and the student Community, whether it's through mentoring, answering questions, or writing fun blogs. This year, we refreshed the program and created the MVP Advisory Board, lead by President Ariel N. and VP Cheyanne H. and have 106 Ambassadors working together to lead and inspire.
11. We celebrated #GivingTuesday, made an impact in our communities, and announced the winner of the second annual Debra Spencer Student Volunteer Award. Penn Foster students volunteered a collective 25,710 hours of their time to make the world a better place. That's almost 3 years worth of time putting good back into our communities! Debra Spencer, who was a Student Ambassador, believed it was important to help out her community with the skills she had learned at Penn Foster and she'd be so proud of all the good that you accomplished. This year, Heather Leatherman received the Student Volunteer Award for her hours of dedication at Camp Erin in Pittsburgh, PA.
12. 15,828 students and graduates follow our Instagram (@pennfoster). We doubled the number of students and graduates like you who are sharing in each other's successes, staying motivated, working hard, and seeing the results of their efforts all on Instagram. Want in on the action? Share where you are in your program or a selfie of you and your diploma and tag @pennfosterfor a shout out!
13. Alumni are sharing their road. Through the Share Your Road community by Roadtrip Nation, you can read the stories and career paths of students, alumni, and more! Create a profile and get started on sharing your own journey today!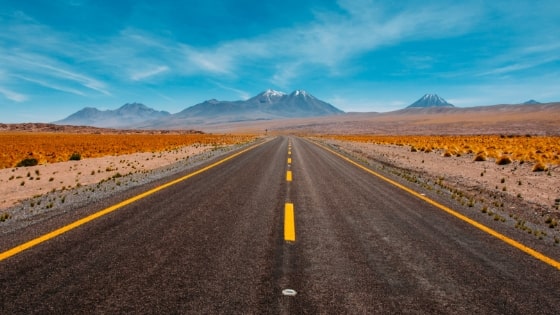 14. There were so many informative webinar series this year. From the Virtual Open House in September, to Helping Professions Week, instructors, professionals, and PF employees came together to share knowledge and advice. Follow our YouTube channel to see some of these recordings.
15. We were granted bronze level Military Friendly Status! For more than 90 years, we've supported and worked with the men and women who serve their country, and their families. We're dedicated to helping veterans understand and use their education benefits to make a career jump or take the first steps toward a promotion in their current company. Military spouses have education benefits, too!
16. The Writer's Block was built to help you if you're stuck on a paper for a class. Tutors and instructors are available to help you work through your paper or essay to make it the best it possibly can be. You can also check out articles, helpful tips, and more.
17. But writing isn't the only thing you can get help with. Through the Penn Foster Digital Library, students are able to access our new Learning Resources Centers. Need help with Computers and Technology? Math or the humanities? You can find tips, resources, and relevant information to help you with your studies.
18. We had the privilege of celebrating your successes. So much has happened this year and the best part was that we had the chance to celebrate your achievements with you, and were able to connect with students, graduates, and alumni who are making an impact in their industry.
Get ready for 2019.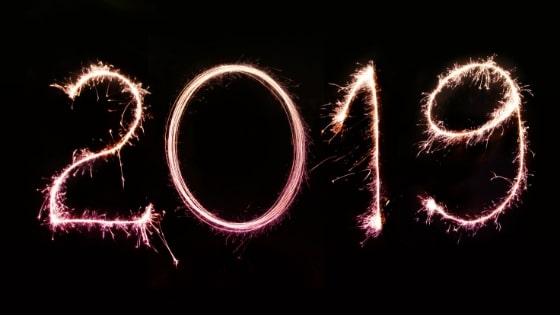 What were you able to accomplish this year? Did you get started on furthering your education? Have you been planning to attend graduation in June? Between the rush of holiday parties, final exams, long hours at work, and everything else you've got going on in your life, take a second to remember every single amazing thing you were able to do in 2018. You crushed it and 2019 is going to be even better. You've got this.