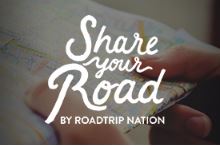 You're a #PFProud graduate taking the first steps down the path toward the life you have dreamt of. You've been through the twists, turns, speed bumps, and breakdowns that happen on a road less travelled and you've pushed forward to make your dreams a reality. Your journey is powerful inspiration to others who've felt like they were stranded at a pit stop in their career or their life.
At Penn Foster, we're proud of the work you've done to get where you are. That's why, in partnership with Roadtrip Nation, we're inviting you to Share Your Road, to tell your story to help students and professionals along their own journey.
What's Roadtrip Nation?
"What should I do with my life?" Since 2001, Roadtrip Nation has made it their mission to help individuals answer this question. Through best-selling books, an acclaimed documentary series, and interactive classroom curricula, Roadtrip Nation empowers people to turn what they like into careers they'll love—and helps them navigate any obstacles encountered along the way.
Roadtrip Nation's purpose and mission perfectly compliments our goal of making career education available to everyone. Penn Foster is proud to support Roadtrip Nation's various initiatives, including the Skills Forward Roadtrip, as well as the Share Your Road Community, in an effort to support talented students and grads who are chasing their career dreams.
How does Share Your Road work?
The Share Your Road Community is an online platform for people like you to pass down the lessons they've picked up on their journey through life and career ups and downs. It's a story driven map that can help others gain the courage to make the first turn in their lives that can lead to bigger and better things.
If you've reached your career destination already, telling your story and pointing out the obstacles on the trip that got in your way can give someone who's just starting out the tools to keep moving forward.
Still on the road yourself? You can gain inspiration from the stories of professionals who are currently where you want to be. What education did they pursue? Did they take the scenic route or the straightest road possible? Any potholes you should look out for on the way?
Having a guide can make a long trip go much smoother! Through the Share Your Road Community, Penn Foster and Roadtrip Nation want to celebrate your successes and connect you with guides along the way.
Here's how to get started.
Sharing your road doesn't require leaving trail markers or breadcrumbs out in the world to make sure those who come after you know what path to follow. A click or two is all that's needed to get going and add fuel to someone else's career journey. Here are the steps you need to complete to get started.
Create an account on the Share Your Road Community. Just like any other website, you'll make a username and password for this networking adventure with no subscription fees.
Fill out your profile information. Where did you go to school? What's your current job title? What roadblocks have caused you to stumble on your way to reaching your dream job?
Explore Your Community! You can browse through the stories of professionals in different industries and see how alike (or different) your stories are.
Why you should pave the way for others.
Besides the benefit to the travellers that are following in your footsteps, Share Your Road allows you to:
Network with thousands of people nationwide who understand what you're going through, or what you've gone through, to make your dreams come true.
Find career inspiration or career opportunities you never knew existed.
Learn from other people's career paths with exclusive interviews from successful people, or find a career mentor to help you pave your way.
Pave the way for others with your stories and struggles and successes!
It's time to lead the way and we know Penn Foster goal getters like you have amazing stories to tell. The journey is just beginning.