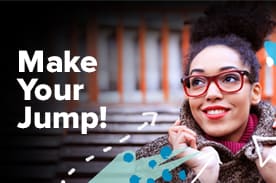 Did you miss the Make Your Jump webinar on January 16th? Did you catch it, but wish you could remember some details? Well, you're in luck: we have an awesome recap with a link to the recorded webinar ready to help you make your jump!
Catch this inspiring webinar with host and author Mike Lewis as he shares his jump story among a panel of Penn Foster students. Mike's life's mission is discovering people who have made big changes in their lives by overcoming obstacles and self-doubts. After recognizing recurring patterns, he mapped out an accessible plan to help others change careers. Recently, his collection of motivating jump stories has been enhanced by Penn Foster students Brittney, Rocco, and Katherine.
Meet Brittney M., a Penn Foster Veterinary Assistant student who once was on the path to earning a teaching degree at a traditional college. Brittney took a jump toward a new career when she needed to start caring for her dog. She learned after months of treating her best friend that she had a special desire to help other families care for their pets, and to be a beacon of support through difficult times.
Get to know Rocco P., a Penn Foster Career School student and freelance writer who overcame his own self-doubts to fulfill his dream. Rocco reminds us that we can be our own worst enemy when it comes to making positive changes in our lives, but with a little inspiration, we can jump over our negative thinking. After hearing the profound words of his pastor, Rocco decided he was going to take a risk and write for the Daybreak Toastmasters Newsletter with no prior experience, even if he failed. Today, Rocco is the editor.
Hear from Katherine M., a Penn Foster College student in the Business Management Program. Kathy turned 60,realized age is just a number and set her sights on a Bachelor's Degree to help her career. She is now writing a book while she pursues her education.She's confident her coursework and positive attitude will make her valuable to any employer.
Take it from Mike Lewis and your Penn Foster peers; there's no time like the present! Watch the webinar and get started on your plan to change your life for the better. Today is the day to make your jump!
Have a jump story of your own? Tell us!
Ready to make your jump? Enroll today.