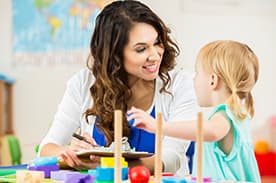 If you currently work with young children or hope to become a preschool teacher, you've probably heard the acronym "CDA" mentioned more than a few times. The CDA stands for The Child Development Associate Credential, which is the most widely recognized achievement in Early Childhood Education (ECE). Depending on your career goals, the CDA is more often than not a key and necessary step for advancing in the field. So what exactly is the CDA credential, why does it matter, and how can you earn it?
What is the CDA Credential?
The CDA is a qualification "based on a core set of competency standards, which guide early care professionals as they work toward becoming qualified teachers of young children."¹ The idea for this standard credential came about in the early 1970s, according to the CDA Council. A group of ahead-of-their-time early educators gathered together to discuss how they could improve the quality of early care and education. They awarded the first CDA Credential in 1975.
Since then, the CDA Competency Standards have become national standards that are used to evaluate a childcare professional's performance with children and families. These standards are then broken down into 6 goals that need to be accomplished and assessed. Overall, there are 13 functional areas a caregiver must be confident in to meet the necessary standards to be an excellent child care provider. Some of these include learning to establish and maintain a safe, healthy environment, support social and emotional development, and be committed to professionalism.
Why does a CDA credential matter on the job?
Most fields have certain standards that must be met, especially those fields and industries that work closely with others. A certification or credential can be proof that you've mastered the knowledge needed to properly work in the field. Besides serving as "proof" that you know what you're doing, the CDA Credential also makes sure those working with young children are prepared and meet the criteria to be the best early educators possible. This not only assures employers that you can handle the job, it can lend confidence to parents who may be worried about leaving their young children at preschools or daycares.
Additionally, at many daycares and preschools across the country, a CDA credential is a requirement for advancement in the field.
How do I earn a CDA Credential?
Unlike other certifications or credentials, earning a CDA involves more than sitting for and passing an exam. To earn a CDA, the candidate must have at least 480 hours of work experience in the field, and 120 credit hours of education that cover the relevant topics. Along with this, those pursuing the credential are tasked with putting together a professional portfolio that demonstrates they've covered the required skills and must also schedule a site visit from a credentialing representative to verify that you can demonstrate competence in the field.
Earning your CDA can seem like a daunting, exhausting process. Where do you even start? If you're new to studying early childhood education, or have only now started working in a daycare or preschool, the first thing to help you get started on the path to your dream career is an accredited online program geared toward those interested in earning the CDA. Besides fulfilling the educational requirement, Penn Foster's Child Development Associate Credential Preparation certificate can help you get started on your professional portfolio with advice from experienced instructors. Recently awarded the CDA Gold Standard through the Council for Professional Recognition, the in-depth program covers the topics the CDA Council requires to take the first steps toward becoming a credentialed childcare professional!
¹ CDA Council