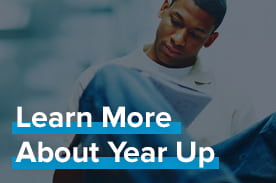 Pssst, over here. Are you 18-24 years old without a college degree, living near a major city? We have an opportunity for you that we think you'll love. And did we mention it's free?
We've recently partnered with Year Up to offer you a new path to more career options. Year Up has a bold vision for the future, and believes in providing young adults with skills, experience, and support toward professional careers. The program offers free, one-year job-training that could help you take the next step toward your career goals if you're eligible. Now, that's pretty awesome, huh?
For the first six months of the program, you could develop technical and professional skills in a classroom setting, then apply those skills during the second six months in an internship at one of Year Up's corporate partners. Your coursework is eligible for college credit, and you can earn an educational stipend while being supported by a community of students, staff, coaches and mentors. Do you think this sounds like a great opportunity for you? Check out these details!
What does this program offer you?
Hands-on technical and professional development
Free one-year training*
Coursework eligible for college credit
Bi-weekly educational stipend throughout the program
Corporate internships at top companies
A supportive community of students, staff, coaches, and mentors
Who is eligible?
18-24 year old U.S. citizens
High School graduates or GED recipients without a college degree
Those available to attend on-campus training on weekdays
Here's how to apply!
Submit a student interest form
Watch the info session online or attend an in-person info session
Complete your application and interview process
The door is open! We hope you seize the day and take the next step. Be sure you're eligible and have a Year Up location near you, and apply today. We wish you all best!
* The Year Up program is offered at no cost at college campuses. Please note: students are responsible for any costs associated with college enrollment.