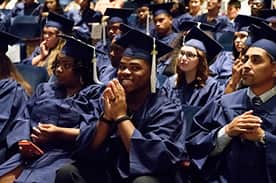 Having an opportunity to walk in a commencement ceremony, whether it's honoring the completion of your high school diploma or a college degree, is a milestone moment that many of us crave. Not only does it acknowledge that, yes, you've finished, but you get to stand up in front of those you love and say "This is what all of that hard work was for!"
While online education can be the most practical and convenient way for some of us to finish our degrees or pursue a new career, that final moment when you graduate can feel a little less than "real." When you finish your coursework, finally, it's an amazing feeling to know that you've passed the first step on your path toward your future goals. But there's a pomp and circumstance to physically walking across a stage and shaking someone's hand that makes your accomplishment seem that much more tangible. But guess what? As a Penn Foster student, you don't have to worry about missing out on that moment! You're invited to join us for our 2018 Graduation event!
The 2018 Penn Foster Commencement Ceremony will take place on June, 2, 2018 at Mohegan Sun Arena in Wilkes-Barre, PA.
We can't wait to see you!